Right after GeForce RTX 4080 and Geekbench benchmarks more informative results from 3DMark appeared.
In TimeSpy and Time Spy Extreme, the upcoming novelty scores 14,718 and 28,599 points, respectively. This is already much better than the Geekbench results, because in this case the RTX 4080 is faster than its predecessor by 50% or more, and also outperforms the RTX 3090 Ti by 32%. At the same time, the RTX 4090 is 37% faster than its younger sister.

Thus, replacing the same RTX 3080 with an RTX 4080 is already much more justified in terms of performance gains. True, it all comes down to price. The RTX 3080 started at $700 two years ago, while the RTX 4080 is $1,200, 42% more expensive. Yes, the performance gain is even slightly larger than the price increase, but still, in absolute terms, the price is very high. Especially against the background of the Radeon RX 7900 XTX, which, according to available data, will be faster and at the same time cheaper by $ 200.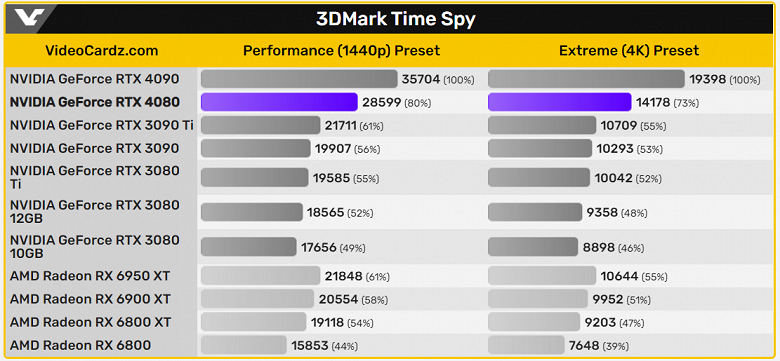 It's also worth noting that the benchmarks in this case appear to be a factory overclocked card, so the reference RTX 4080's results may be slightly lower.