Reviews of video cards Radeon RX 7900 showed that in general, with overclocking, the adapters are pretty bad. However, it turned out that there is a nuance.
The TechPowerUp resource, after reference cards, got the Asus Radeon RX 7900 XTX TUF OC for testing. Among other things, this card is distinguished by the presence of three power connectors (8 + 8 + 8) versus two for reference and many non-reference solutions. It is precisely because of the lack of power that most cards overclock poorly, as they quickly hit the power limit. In the case of the Asus adapter, there is no such problem, and it turns out that the Navi 31 has a very good frequency potential. Just around the same 3 GHz that AMD was talking about at the time of the announcement. To be more precise, even higher, since the GPU frequency of the overclocked Asus card was at the 3.2 GHz mark. This provides an increase of almost 15% relative to the reference card. And in the same Cyberpunk 2077, the Asus adapter is already directly competing with the RTX 4090!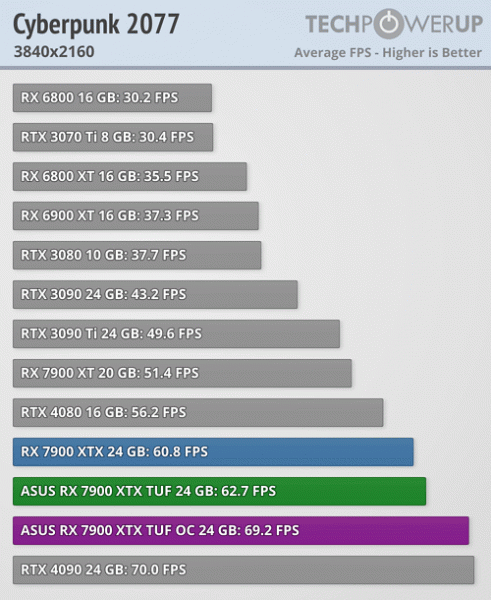 Thus, if you still really want an AMD video card, and the championship of the RTX 4090 haunts you, you can choose the right version of the RX 7900 XTX and overclock it well.
And you can wait for the Radeon RX 7950 XT, which is still may exit because such a name has been registered in the EEC database.