The team at popular video platform YouTube has very quietly introduced annual subscription options for YouTube Premium and Music Premium. They are currently offering a pretty significant discount over the monthly bill, but this offer will only last until the end of the week.
New YouTube Premium and YouTube Music Premium users can now see the "save money with annual, family, or student" offer under the regular subscription option and the "Try it for free" button. The last two offers have been available for quite some time, but the annual plan is something new.
An annual YouTube Premium costs $107.99 for 12 months ad-free, offline and in the background. At the same time, the regular individual plan costs $11.99 per month. Users pay upfront for the year and save $3/month or $36/year. The cost of an annual YouTube Music Premium subscription is $89.99, saving you $2.50 per month. In Russia, YouTube Premium for a year costs 1,799 rubles, and YouTube Music Premium costs 1,529 rubles, while for a month an individual subscription will cost 199 rubles and 169 rubles, respectively.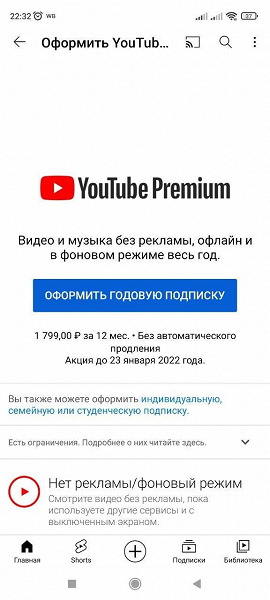 This is a temporary price, the promotion ends on Sunday, January 23rd. On the support page it is noted that this is a one-time subscription that must be manually renewed every year, and no partial refunds are offered. If you're already a YouTube Premium or YouTube Music Premium user, to upgrade to an annual plan, you'll first need to opt out of a paid subscription and then upgrade to an annual subscription.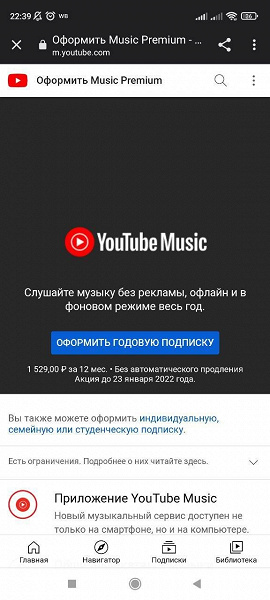 The annual subscription is available for residents of countries such as Brazil, Germany, India, Canada, Mexico, Russia, Thailand, Turkey, USA or Japan.
.