Xiaomi today announced the Civi 2 smartphone. The predecessors were touted as the most beautiful phones of the manufacturer, and Civi 2 should surpass them. How? For example, with the help of special glass, which is used to decorate the back panel.
There is a wave-like texture, which, according to the creators' ideas, resembles the folds on a white Hello Kitty dress. This glass is unusual – it will feel warm to the touch, but the description generally says that the glass is "soft". In general, in terms of external design, Xiaomi really prepared something new, but it will not do without a new one inside.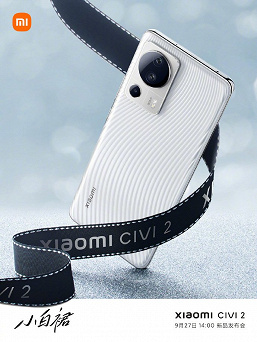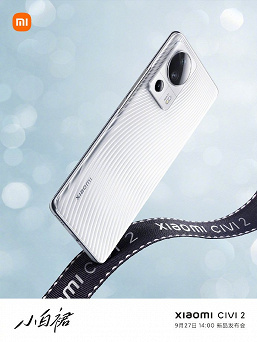 Debuting on September 27, the Civi 2 is expected to be the first smartphone powered by the Snapdragon 7 Gen 1 SoC, which aims to replace the much-deserved Snapdragon 778G. Also, the phone is assigned a Full HD + screen with a frame rate of 120 Hz. As for the camera, it has three sensors, the resolution of the main one, according to rumors, is 50 megapixels. Interestingly, two modules are placed in a ledge-ring and covered with common glass, which creates the feeling that there are only two modules in the main chamber.