Xiaomi introduced the MIJIA Smart Desktop S1 desktop dishwasher in China. The novelty will be available for purchase starting from 10:00 on November 1, initially on crowdfunding terms. The initial cost will be 1399 yuan (about $191), and after the crowdfunding stage is completed, the dishwasher will cost 1699 yuan (about $232). The release of the model anywhere outside of China has not yet been reported.
The MIJIA Smart Desktop S1 dishwasher can wash five sets of dishes (39 items in total) at the same time and is equipped with baskets to accommodate dishes of various shapes. The device has a width of 550 mm and a closed depth of 350 mm. Thanks to the design of the folding door, the manufacturer managed to make the depth of the machine in the open form small: it does not exceed 600 mm. Xiaomi MIJIA Smart Desktop S1 occupies about 0.19 square meters. m of table space.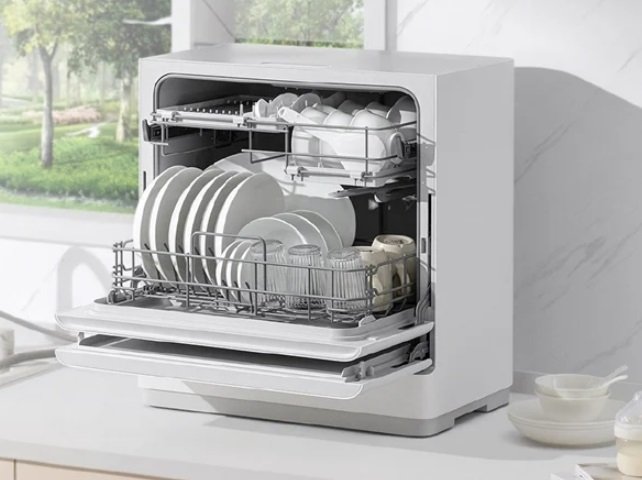 The dishwasher supports optical water quality monitoring and uses artificial intelligence algorithms. So, in just 10 seconds, it can determine the degree of contamination and automatically select the dishwashing mode. Xiaomi also claims that MIJIA Smart Desktop S1 consumes 85% less water compared to hand washing, and the power consumption of one wash is 0.53 kWh. In addition, the novelty uses hot air circulation drying and ultraviolet disinfection, destroying, according to Xiaomi, up to 99.9% of bacteria. The dishwasher supports 7 modes, including various washing modes at 75°C or 55°C.