Xiaomi today introduced the Mijia cooking robot, which has 35 use cases and is priced at $870 at the pre-order stage. Later it will increase to 1015 dollars.
According to Xiaomi's official statement, Xiaomi's cooking robot supports frying, stewing, steaming, kneading noodles, chopping meat, juicing, has a coffee grinder mode, supports low-temperature cooking, accurate weighing of ingredients (up to 1g error), and offers a number of other functions.
It adopts a state of the art motor that supports 40-12000rpm and has its own CookingloT algorithm that can intelligently calculate the cooking temperature, stirring speed and cooking time of each dish using AI technology.
The Xiaomi cooking robot received an 8-inch color touch screen that displays useful information, as well as more than 200 recipes. The device supports voice control.
The smart gadget allows you to simultaneously cook three dishes and one soup, and also supports accurate temperature control up to 180 ° C, has the function of reducing fumes during cooking, and also has a smoke sensor.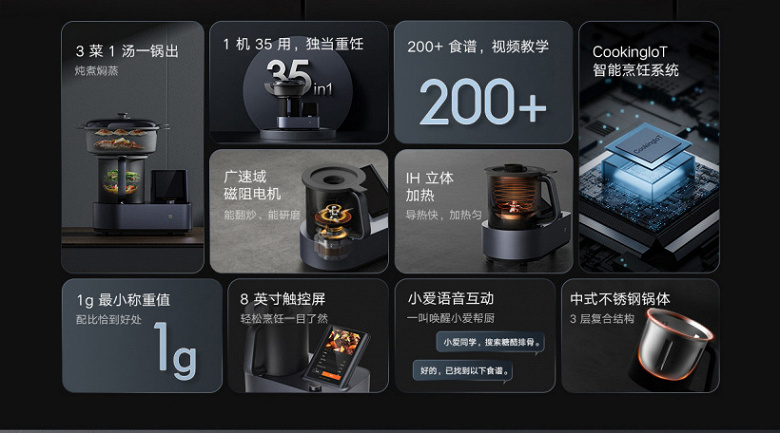 Xiaomi also introduced smart rice cooker Mijia Smart Quick Cooking Rice Cooker 5Lwhich is now available for pre-order for a starting price of $45.