Xiaomi first released a graphics tablet MIJIA LCD Small Blackboard, also known as MIJIA LCD Writing Tablet, back in 2019. The product became a hit and the company recorded huge sales over time. This prompted Xiaomi to release an updated version called MIJIA LCD Smal Blackboard Storage Edition.
As the name suggests, the new storage version comes with flash memory, unlike previous models where users cannot save what is written or drawn on the screen. Written texts or drawings in the original tablet disappear as soon as the screen is wiped.
While the previous model was available in 10-inch, 13.5-inch and 20-inch variants, this new version only comes with a 13.5-inch LCD screen. The display is made using electromagnetic induction technology, it recognizes 2048 degrees of pressure.
The tablet comes with a passive wireless electromagnetic pen that does not require recharging and can be used at any time. The pen stroke is only 0.7mm, which is comparable to the feel of a traditional pen.
The Mijia LCD Small Blackboard Storage Edition tablet has 121MB flash memory and can store up to 400 pages. You can save entries locally. The device can also be paired with a smartphone, giving users the option to add Xiaomi cloud drive backup support.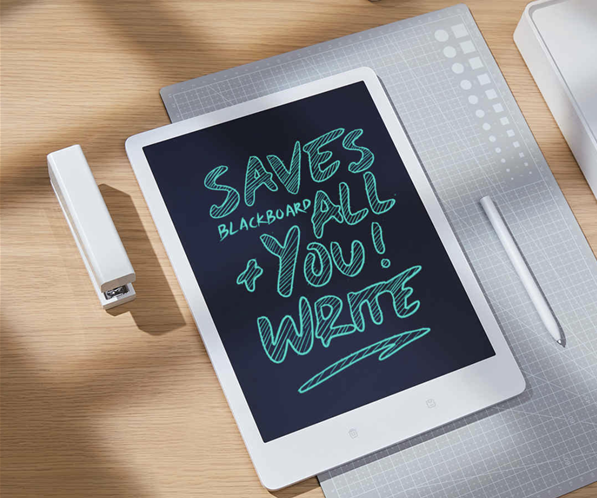 In addition, the writing tablet supports real-time writing screen synchronization with a mobile phone or other tablet. It also provides support for Bluetooth 5.0 wireless transmission.
In terms of battery life, the built-in 1000 mAh battery can last one week on a fully charged state. It also features a USB-C interface for fast charging, with a full charge guaranteed in 1.5 hours.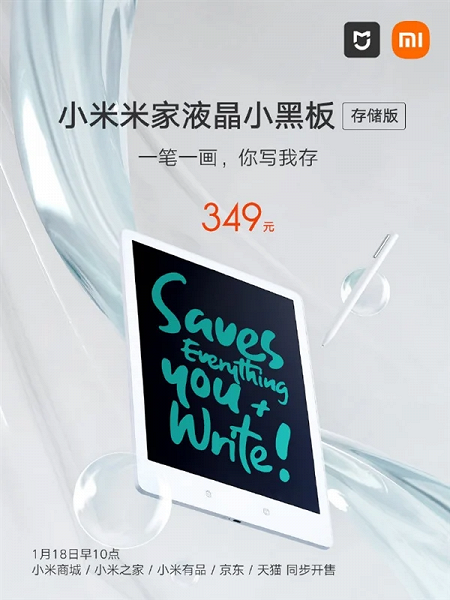 The price of the device is only $55.