New Delhi: JK Tire Orange 4X4 Fury 2022 In Dambuk: Recently, the Orange Festival of Adventure and Music was organized in Dambuk, Arunachal Pradesh, which is truly a great gift for the music and motosports lovers. The coolness of the Rowing River in the splendid valleys of Lower Dabang and the lap of the mountains, in JK Tire Orange 4X4 Fury 2022, when hundreds of people cheered for their teams, the sound of beast-like vehicles made their voices louder. Was getting it done. Kerala team Gulf First Racing captured the trophy in the seventh edition of JK Tire Orange 4X4 Fury, India's toughest off-roading championship. At the same time, team MOCA of Arunachal Pradesh came second and Northern India Off-Roading Club (NIOC) of Delhi-NCR came third.
Development of tourism through motosports
While in a diverse state like Arunachal Pradesh, the efforts of the local government and the support of a company like JK Tire are giving a boost to motosports in a way, tourism is developing a lot in states like Arunachal Pradesh. This has resulted in people from all over the country reaching Arunachal Pradesh and participating in the Dambuk Orange Festival, the toughest off-roading championship in the Motosports section, JK Tire Orange 4X4 Fury. At the local level, they are getting a lot of help from the government and local authorities. Due to this, while Arunachal Pradesh's name is increasing on one hand, JK Tire is playing the most important role in that it is easily getting a place for race or off-roading rally.
Sunny Kumar with Pema Khandu at Orange Festival 2022
JK Tire official Sunny Kumar told in a conversation with Navbharat Times that the main reason for getting JK Tire 4X4 Fury in Arunachal is not only the support of the local government here, but it is our partner. Whether it is a matter of getting permission or any other help, there is no need to write a letter to them, we just message and immediately we get a message on WhatsApp that you have been approved, come you do the event. In other states, it takes months only for approval. Arunachal Tourism is also getting a lot of support in organizing this event. There has been a lot of development in this area during the last 7 years. Roads have been built here, many resorts have opened and there is no problem of food and drink. We get food like Delhi in Arunachal also. All this is happening with the cooperation of the Arunachal government and our partnership will continue as stated by CM Pema Khandu.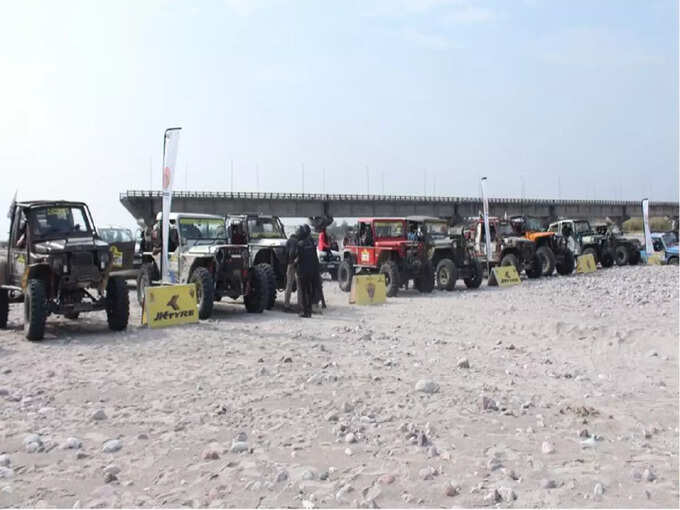 At the same time, Arunachal Pradesh CM Pema Khandu told in a conversation with Navbharat Times that the geographical positioning of Arunachal Pradesh is quite accurate for motosports. We started Orange Festival in 2015, which is getting more and more popular every year in association with JK Tire. When we started this program in the year 2015, at that time people did not have much idea what it is and because of this the locals should not face any kind of problem. But everything has been good over the years and local areas have got a lot of promotion in tourism too. Arunachal Pradesh Motosports Club is doing its best to promote Motosports here. We are doing a lot of events in this area in association with JK Tire.