Lansweeper, a company specializing in research in the IT field, provided interesting statistics.
The popularity of the latest Windows 11 leaves much to be desired, according to a new study of more than 10 million devices based on the Microsoft operating system.
According to Lansweeper experts, only 1.44% of users switched to Windows 11. At the moment, Windows 10 (80.34%) remains the most popular and, apparently, will remain so for a long time.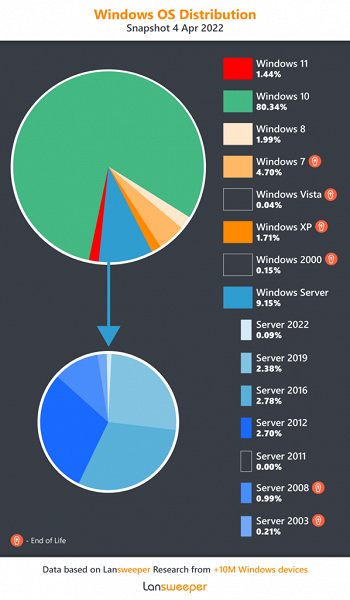 More interestingly, Windows 11 is still far ahead of the true "veterans" among Microsoft operating systems. We are talking about Windows XP released in October 2001, which has a share of 1.71%, as well as Windows 7 with a share of 4.70%, which was released in 2009.