For some reason, Intel waited a couple of days and introduced another video card.
Arc A750 will be available on October 12, as well as Arc A770. Technically, this is a pre-flagship solution. Instead of 32 Xe cores, the new products have 28 of them, that is, 3584 FP32 blocks. The adapter also has 8 GB of GDDR6 memory with a frequency of 16 GHz, a 256-bit bus and a TDP of 225 watts. That is, the novelty as a whole is very similar to the A770.
And the price is close. If for the younger Arc A770 they ask for $ 330, then the A750 is priced at $ 290. Thus, the card is 12% cheaper with a 12% lower number of computing units.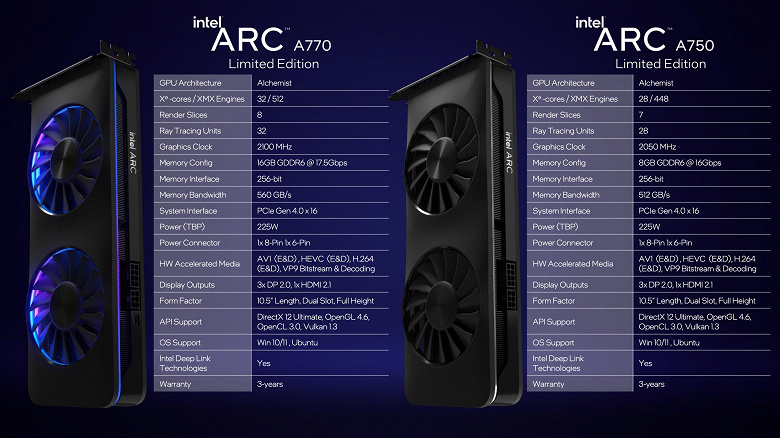 Intel also clarified the Arc A770. Contrary to previous reports, the 8GB version will cost $330, while the 16GB version will cost $350. More precisely, for this money, a Limited Edition reference card will be sold, which will only be available with 16 GB.
Intel itself says that the Arc A750 is 53% superior to the GeForce RTX 3060 in terms of price and performance, but at one time Intel said something similar about the Arc A380, but in the end it turned out that there are nuances. In addition, here the company mentions that they are charging an RTX 3060 with a price of $418, which is allegedly the average price of this card on the NewEgg network on September 22. However, there is an RTX 3060 on the same network for $370-$400, so the Intel comparison should be treated with caution.
As for direct price competitors for the A750, according to the same NewEgg network, these are the GeForce RTX 3050 and Radeon RX 6600.