Hu Xinxin, Xiaomi Product Manager, answered user questions about the design of the front panel of the Xiaomi Civi 2 smartphone, which received an oval cutout in the central upper part of the screen.
She stated that there is a simple explanation for this: Xiaomi Civi 2 focuses on image processing. The smartphone will allow users to take incredibly high-quality selfies on the front camera, which is given enough space.
According to her, the two 32-megapixel front cameras of Xiaomi Civi 2 use two identical sensors, just like the eyes. At the same time, Xiaomi did not want to make any compromises in terms of resolution and image quality.
In addition, she added that the main camera is equipped with a Sony IMX766 image sensor, as well as an ED optical glass lens, which provides better image quality around the edges in daytime shooting, higher light transmittance and better noise reduction in night shooting.
In addition to a significant improvement in the camera hardware, Xiaomi Civi 2 is also equipped with the Mi Imaging Brain system, which improves the camera launch speed, shutter speed in all scenarios, including night mode, compared to its predecessors.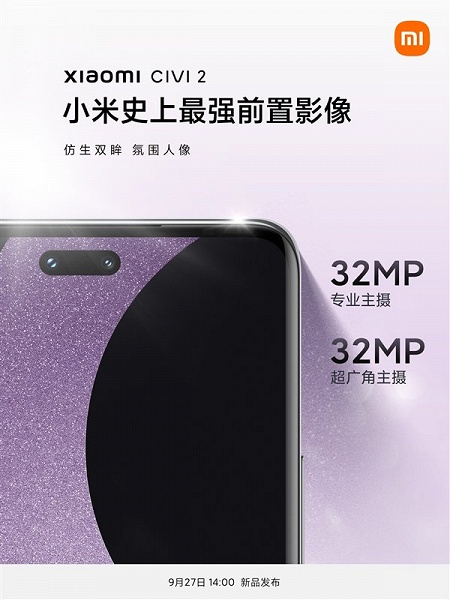 Was published early The first image of the front panel of Xiaomi Civi 2, the design of which is clearly copied from the iPhone 14 Pro. The latest smartphone Xiaomi Civi 2 with "little white skirt" has already been ordered by 100,000 people.