Intel announced that it has already begun shipping its dedicated Data Center GPU Flex line of graphics accelerators, and at the same time boasted of their performance.
From the name it is clear that the solution is intended for data processing centers. And as a competitor, Intel lists Nvidia A10 – an adapter based on GPU GA102 with 9216 CUDA cores, 24 GB of memory and performance (FP32) of 31.24 TFLOPS.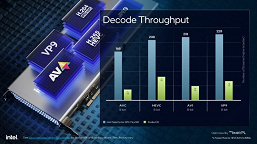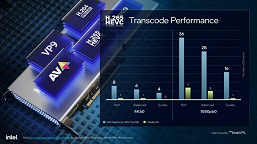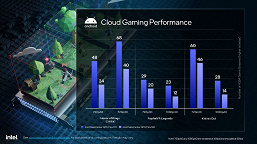 Intel offers two models: Flex 140 and Flex 170. With Nvidia A10, the company mainly compares the first, but we'll start with the second. The Flex 170 has the same TDP of 150W but only 16GB of memory and 16TFLOPS of performance. It is based on a GPU with 32 Xe cores or 4096 FP32 blocks. That is, technically, the Intel solution looks weaker. At the same time, in the tests, the results of which are shared by Intel, it is its cards that turn out to be better, and at times. Here Intel explains everything with the Xe Media Engine. One such unit is capable of processing video in 8K at 60 fps with 12-bit HDR decoding. As for the number of threads, the results can be seen on the Intel charts. Flex 170 has two such engines.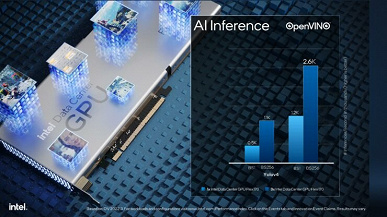 As for the Flex 140, the specifications are more unusual. The adapter is based on two GPUs, while in total it has only 16 Xe cores and only 12 GB of memory. Performance is claimed to be only 8 TFLOPS. That is, two GPUs are twice as weak as one in the Flex 170. But the TDP is only 75 W, and there are four media engines (two per GPU).
Recall that today Intel also introduced Raptor Lake processors, Arc A770 graphics card and talked about the CPU with a frequency of 6 GHz out of the box.