Contrary to early leaks and rumors, the GeForce RTX 4090 turned out to be very energy efficient and even more economical than the RTX 3090. But Nvidia's new product can be made even less voracious.
The authors of the QuasarZone resource decided not only to achieve less power consumption from the RTX 4090, but also to achieve this in two different ways. The first is reducing the power limit, but the second is more complex – it is undervolting or reducing the voltage on the GPU.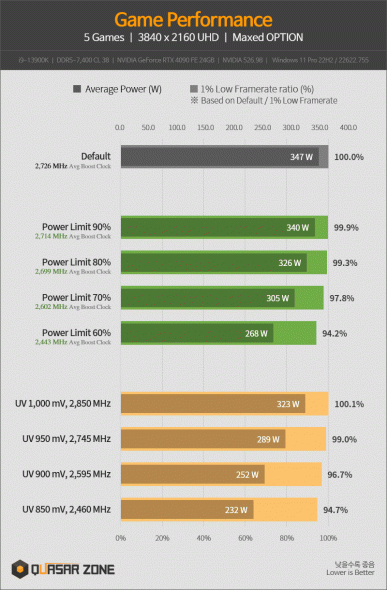 As you can see from the diagrams, both methods are effective, and in both cases you can achieve an impressive reduction in power consumption with a slight drop in performance. In the case of power limit management, power consumption can be reduced to 268 W, with a loss of only about 6% of performance. Reducing the voltage allows you to achieve power consumption of only 232 watts, sacrificing less than 8% of performance.
Thus, the RTX 4090 can be turned into a mid-range card in terms of power consumption, while keeping its monstrous performance almost unchanged.