In today's era, all the companies select only talented and qualified candidates for their better development. 
In today's era, all the companies select only talented and qualified candidates for their better development. In such a situation, keeping in mind these needs of companies, a best management institute tries its best to make its students capable enough to live up to their expectations.
With the changing times, even today choosing the right management institute remains a serious concern for the students because only the best management institute helps the students to grow and fulfill their dreams. Good management institutes are known for providing a healthy and developing environment to their students, so that the students studying there can concentrate on their studies and personality development and make a great career in the corporate world.
In such a situation, while taking admission in a right business school, students should pay attention to many important things, such as placement status, ranking of the institute, faculty, alumni, specialization, curriculum and industry exposure etc.
Jaipuria Institute of Management is one such business school which fulfills all these criteria and provides better opportunities to its students. Let's know about its features…
Excellent placement record has been made in the last few years.
Placement comes first in the mind of most of the students taking admission in MBA course. In such a situation, the placements provided by this institute help a lot in building a professional career in the true sense. The record of Jaipuria Institute of Management in terms of placements is very encouraging.
This B-School prepares courses according to not only the needs of the industry today but also the future needs, and new and old in every way Also provides campus placement in the profile of.
Amit Attri, Vice President, Corporate Relations, says, "Jaipuria's primary objective is to provide placements to students with the right profile in the right company at the right time. With a network of 375+ recruiters, we are committed to provide the best placements. Our The current placement record is a testimony to the fact that we have seen an unprecedented 25% increase in the average package till date.Similarly, we have also seen a similar response from corporates for summer internships and a 100% increase in the highest stipend offered to students have happened.
Also the ongoing trend in placements clearly indicates that the institute is going to set new benchmarks.
Shrey Shetty, a PGDM student placed in a well-known company Deloitte, says, "I am extremely happy to be a part of the institute. I appreciate the new age curriculum and the exposure I got here. My two years in this institute completely changed my personality, be it developing work ethic, learning professionalism. Jaipuria has done all this for me. And many thanks to the institute for this.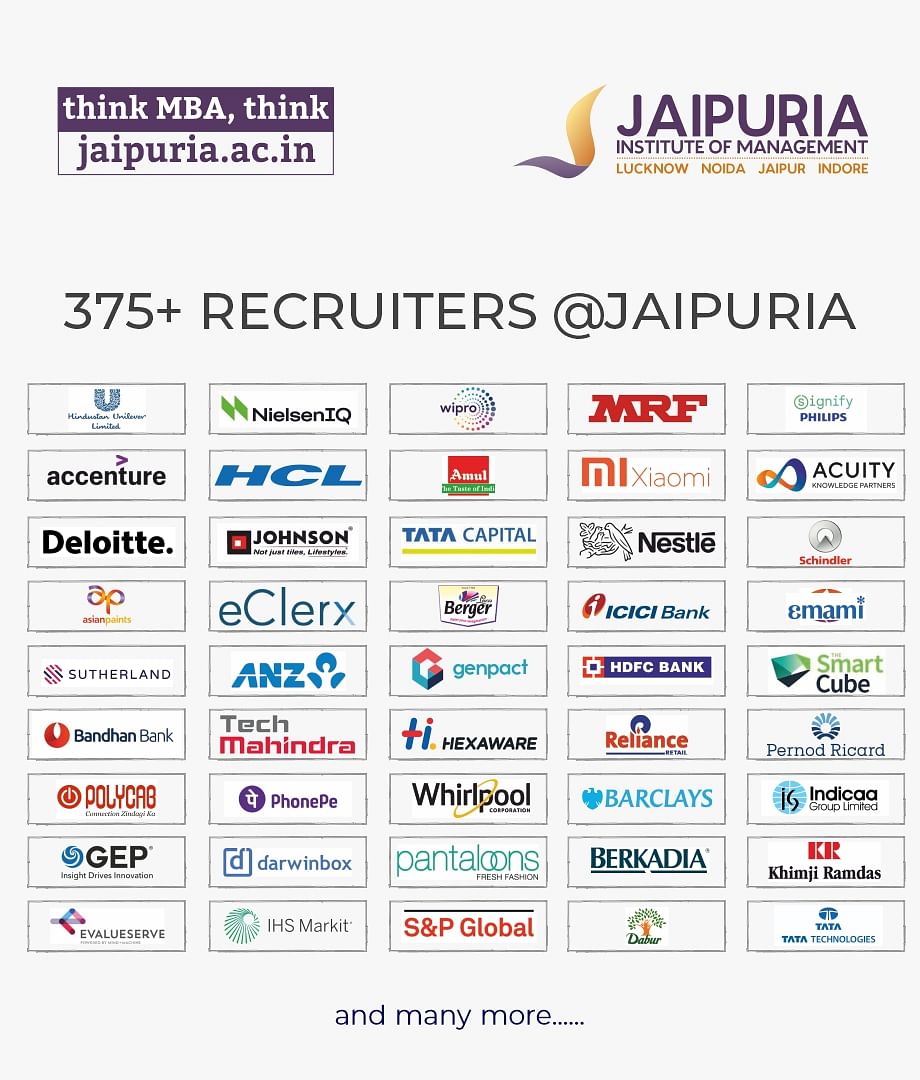 Golden opportunities are available for new-age profile jobs with placement
There is a lot of demand for new-age profile jobs in the market today and that is why Jaipuria remains the first choice of students as the pass outs from here are Senior Analyst, Mortgage Banking Analyst, Portfolio Management, Digital and Social Media, Procurement Advisory, Data Getting many new-age jobs like analyst, risk advisory, marketing.
Top recruiters for Jaipuria Institute of Management are Accenture, Sipal Corporation, Barkadia, T.V.S Motors, Pernod Ricard, Bajaj Housing, Hexaware, Mahindra Finance, Reliance Mobility, PwC, ANZ Bank, Deloitte, Dabur, Oxen Partners, Colgate Palmolive , Ploycab, Hafele India, ICICI Bank, HDFC Bank, Tech Mahindra, Tata Technologies, Birla Paint, Cantor, Sutherland Global, Signify, Kimberley Clarke, Eclerx, Tata Consumer, E-Value Serv, HCL, Uno Minda, Adani Wilmar, MRF , HUL and Bajaj Electricals etc.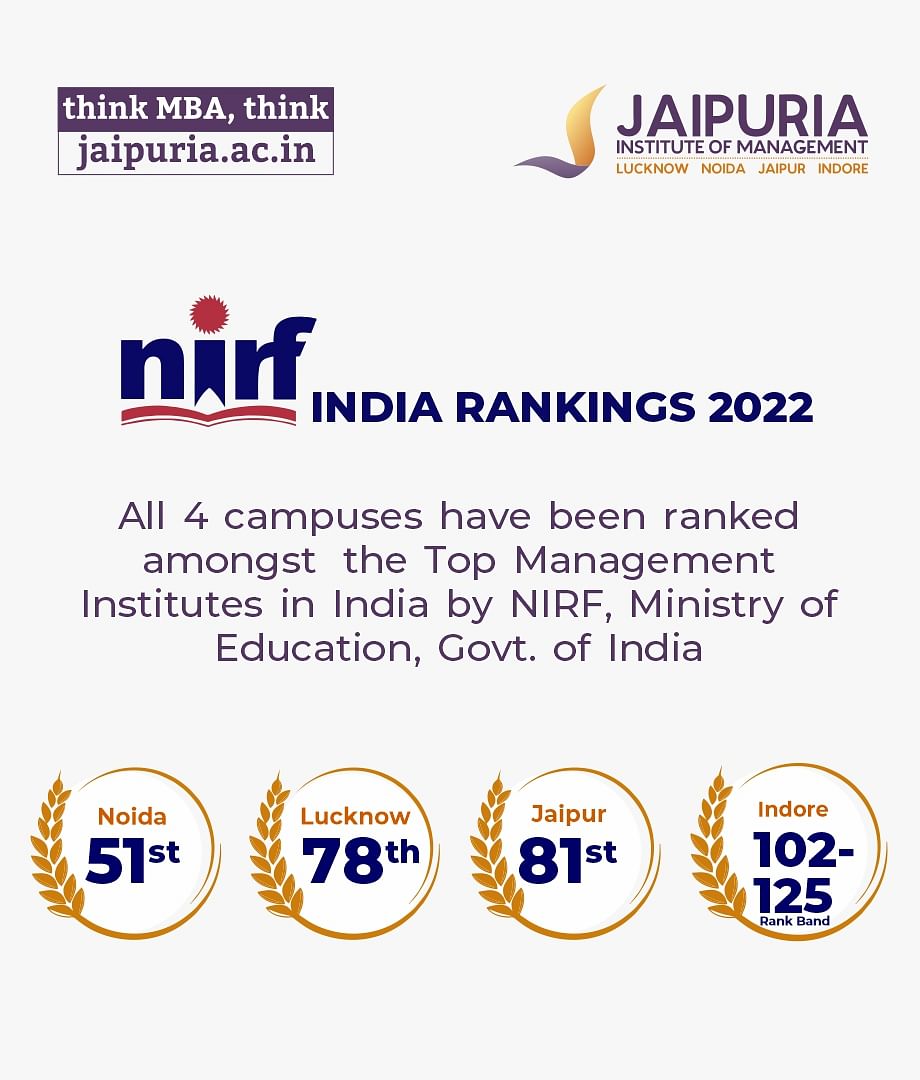 All 4 institutes of Jaipuria are included in the list of top management institutes of the country.
We all are well aware of the fact that good ranking is given to the same educational institute, which has done a great job on quality education, all round development of students and strong placements. In such a situation, Jaipuria Institute of Management has consistently proved its trust on all these standards and it is a matter of pride that all the campuses of Jaipuria have been ranked among the top management institutes of the country by the National Institute Ranking Framework (NIRF) in the year 2022. . Jaipuria Noida has been placed at 51st, Jaipuria Lucknow at 78th, Jaipuria Jaipur at 81st and Jaipuria Indore at 102-125 rank band.
Let us tell you here that NIRF is a system adopted by the Ministry of Education in the Government of India, which ranks India's higher education institutions every year according to their best performance. In this year's ranking, more than 6000 institutions across all categories had applied to prove their worth at NIRF.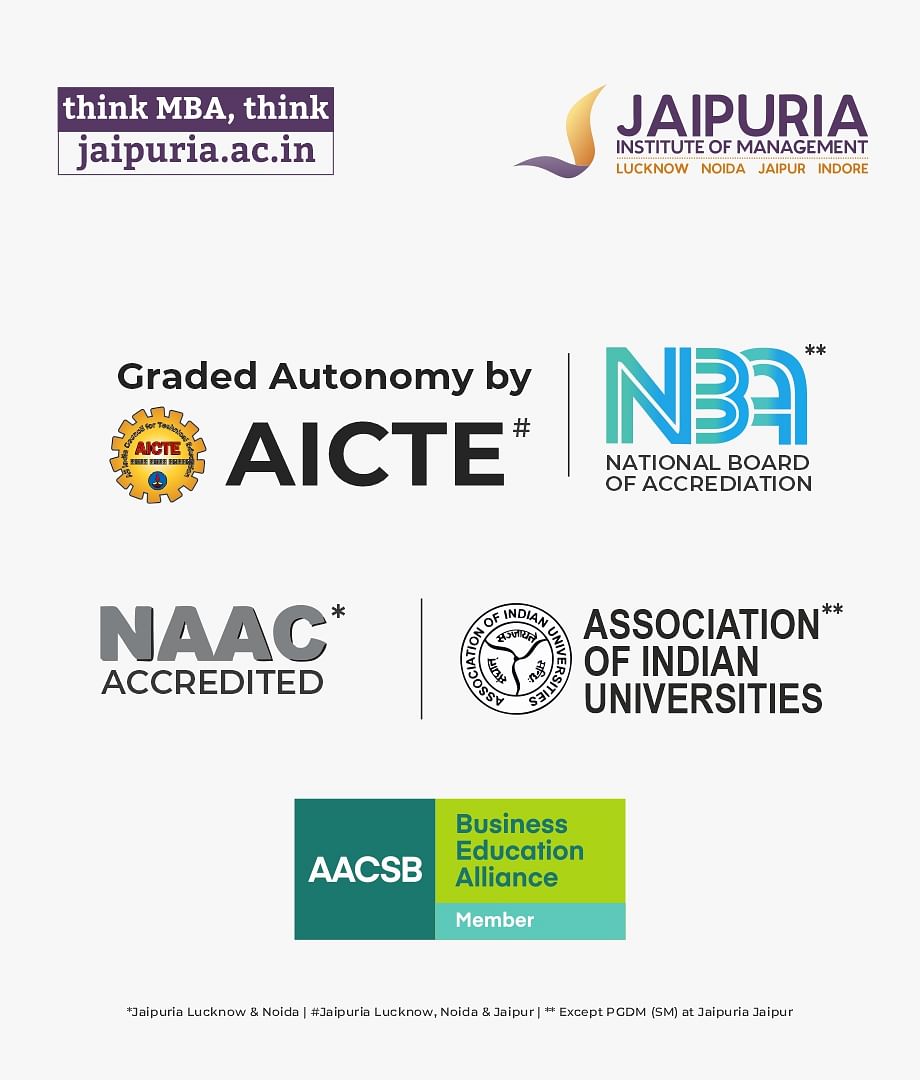 Apart from ranking, Jaipuria Institute of Management is also recognized by various institutions, in which AICTE approved PGDM offered at four campuses in Jaipuria, MBA equivalent recognition, AIU (Association of Indian Universities) and NBA approval.
Additionally Jaipuria is NAAC and NBA accredited and is also part of the AACSB Business Education Alliance internationally. Also, three campuses of Jaipuria Institute of Management have received the special recognition of Graded Autonomy by AICTE.
Jaipuria offers world class faculty and excellent alumni connections
Jaipuria prides itself on its world class faculty. The faculty here have many years of academic and industry experience, which makes them better in their respective fields. The faculty here focus on 360 degree learning i.e. every aspect of student development. Their main objective is that when the students pass out from college and join a company, they can give their best contribution. Jaipuria Institute of Management's rich heritage of 27 years and wide alumni base show that the students studying here have access to all modern facilities in the field of business education. 13000+ alumni, 150+ faculty members and 375+ industry recruiters underline the strength of this institution.
If you are also thinking of making your career in MBA, then Jaipuria can be your best choice for B-school. Here students are also provided scholarship on the basis of their merit. This scholarship is given on the basis of their CAT/MAT score.
The admission process for MBA 2023 session has started, for more information on placement, admission and scholarship please visit www.jaipuria.ac.in