Volkswagen, which unveiled a conceptual electric reincarnation of the iconic T1 minivan at the 2017 Detroit Auto Show, promises to unveil a production version of the vehicle this quarter. More precisely, March 9th. Recall a year ago it became knownthat the release of the car, dubbed ID.Buzz, has been postponed.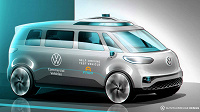 There are no images of the production sample yet, but it is expected that it will be close to the concept.
ID.Buzz is expected to go on sale in Europe at the end of 2022. There will be two passenger options available – long and short wheelbase, as well as commercial options. The entry-level models will have rear-wheel drive, while the more expensive ones will have all-wheel drive. In addition, there will be varieties that differ in battery capacity.
.