Google's new Android Automotive operating system is still available on a small number of vehicles, and the choice of applications for it is limited. However, the first third-party web browser is already available for Android Automotive. This is the Vivaldi browser, which comes in versions for Android, Windows, macOS and Linux recently got a big update, in particular, including two-level tabs. The browser is available on Polestar 2 electric vehicles.
According to the developers, security was one of the top priorities when porting the browser to Android Automotive. Unsurprisingly, you can only start using the browser when your car is parked. And if you start watching live streaming and then continue driving, the browser will automatically mute the video, limiting itself to just audio.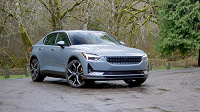 Confidentiality is another priority. The browser will not save browsing data if you open the private tab. To transfer data between devices, you will need to be signed in to your Vivaldi account. The developers clarify that Polestar will not be able to access user information.
Of course, given the platform, the Android Automotive version of Vivaldi based on the mobile version of the browser is somewhat limited in functionality. For example, there are no two-level tabs mentioned at the beginning, it is impossible to download files and scan QR codes. At the same time, there are not many differences from other versions, and the developer promises to regularly release updates.
.