Snake tried robotic legs
The video shows Ellen making robotic legs for a dragon. For this, he works very hard, spends a lot of money to make robotic legs, but when the robotic legs are ready, the snake does not enter it in the first attempt… see what happened then
A YouTuber   is making a lot of headlines on social media by making robotic legs of a snake . Allen Pan released a video on his YouTube on Saturday in which he has told about his engineering technique. Ellen Pan is a content producer who provides information on how to make things like exoskeletons, battle boats at home. Allen's content gets millions of views online. Sharing a post, he wrote, "Giving legs to the snake."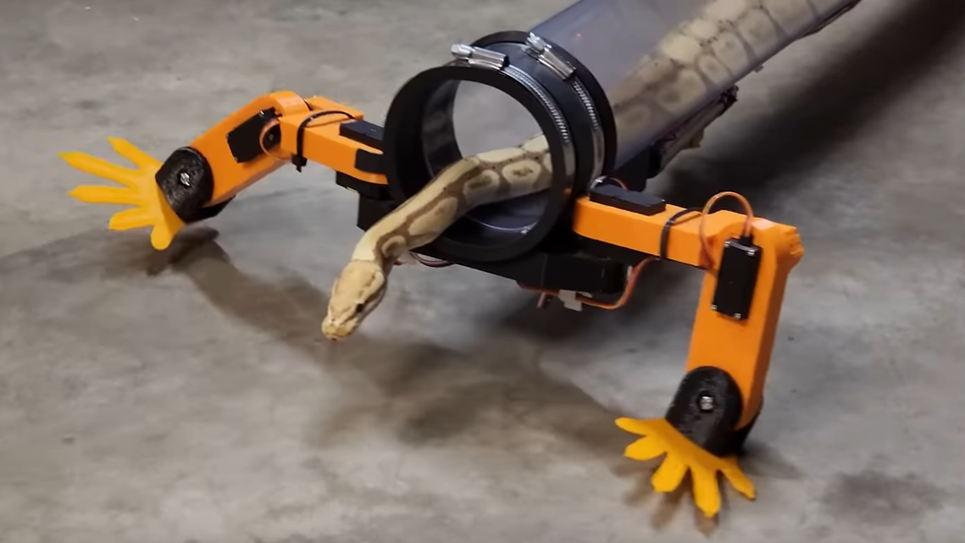 This video shows Ellen making robotic legs for a dragon. For this, he works very hard and makes a lot of planning. Robotic legs also spend a lot of money to make, but when the robotic legs are ready, the snake does not enter it first. But after many attempts, Allen's hard work becomes successful.
The YouTuber reported that he "loves snakes" and that this effort is just to show that. Allen Pan said about the new invention that – it is to give robotic legs to snakes. Nature has snatched the legs of snakes from them." People are liking this thinking of Ellen.
Ellen Pan had previously transformed herself into a swordsman wearing an exoskeleton. Allen says that he wants to overcome the obstacles of nature. According to Yahoo News, he wants to prove this by returning the legs that the snakes lost before their birth.
This video has got more than 2 million views so far, so far more than 1.1 lakh people have liked it. Many users are in wonder that some say that when nature has not given them legs, then what will the robotic legs do?