The Ulyanovsk Automobile Plant (UAZ) has presented a new long-term strategy for the company's development until 2035. The main provisions were demonstrated at the MANF-2022 international automotive forum taking place today in NAMI.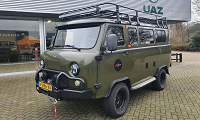 According to the new strategy, the UAZ product line in the next 10-13 years will develop in three key areas:
Possession of a vehicle "by subscription";
Remote control of service processes and interaction with the client;
Implementation of ADAS and V2X technologies.
There are no questions on the first point, similar car rental services in Russia have already been launched by other automakers. The second refers to the possibility of remote provision of services, and the third includes two concepts at once: a complex of active safety systems and driver assistance (ADAS) and technologies for interacting a car with road infrastructure and other road users (vehicle-to-everything).
In addition, UAZ is laying the foundation for the creation of a new platform focused on fully electric vehicles.