Hardware wallet maker Trezor has announced a partnership with the Wasabi Wallet team. The goal of cooperation is the integration into devices of a tool for mixing bitcoin transactions CoinJoin.
The technology randomly groups transactions to hide the origin of the funds. Access to the new option will open in 2023.
CoinJoin is a method of obfuscating cryptocurrency transactions introduced by Bitcoin Core and Blockstream developer Gregory Maxwell in 2013. The effectiveness of CoinJoin still attracts members of the cryptocurrency community who want to remain anonymous when transferring cryptocurrency. Wasabi Wallet has proven to be one of the main technology providers to this day.
Karo Zagorus, Head of PR and Reputation for Wasabi Wallet zkSNACKs, clarified in a comment to Decrypt that negotiations with Trezor began in 2019. According to him, the result represents a "phenomenal achievement".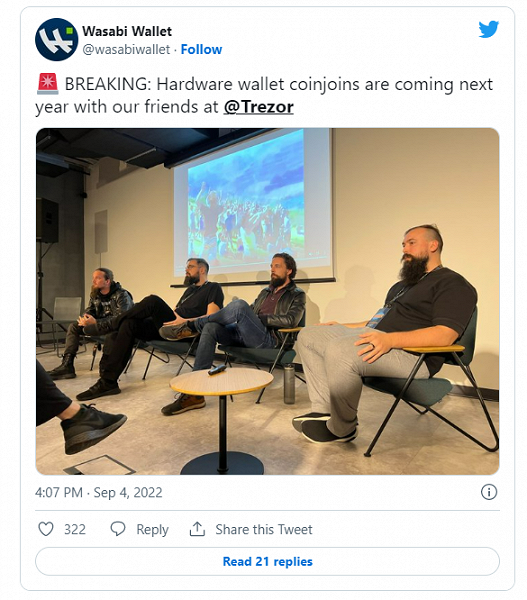 The Wasabi team added that the work on anonymization technology is a response to increased oversight by the authorities.
"Financial transactions could end up being used to spy on citizens," they noted.
Recall, on August 8, OFAC (Office of Foreign Assets Control, a division of the US Department of the Treasury dealing with financial intelligence, planning and application of economic and trade sanctions) added to the sanctions list the site of the Tornado Cash cryptocurrency mixer, as well as 39 Ethereum and 6 USDC associated with it. -addresses.
Industry advocacy organization Coin Center said the agency had overstepped its authority. Jesse Powell, CEO of the Kraken cryptocurrency exchange, called the regulator's actions "unconstitutional" and "violating the right of citizens to privacy."
Prior to this, OFAC had placed the Blender cryptomixer on the sanctions list.