Guide : Free Fire Max is developed by 111dots studio. This is a multiplayer game played through online medium. It is based on rank system which provides great gaming experience.
The profile of the players is most important inside the game. Everyone wants to set the attract profile. For example, profiles affect players based on level, rank, and stats. Well, in this article, we are going to give you some tips on how to make a colorful signature in Free Fire Max: How to get the color code?
Tips for making a colorful signature in Free Fire Max: How to use the color code?
Players in Free Fire Max can make their in-game bio attractive with colorful text inside their profile. Players can find different text color options on the internet.
Tips for Formatting Signature in Free Fire Max
Gamers can use different websites available on the internet to make their profile bio most attractive. Because, it provides great color code to the players. For example, if players want their name in red color, then they should use this code FF0000. This will provide red color to the display.
Here are hacks codes to make signature colorful in profile:
Purple – #800080
Grey – #808080
Fuchsia: FF00FF

Brown – #A52A2A

Pink – #FFC0CB
Dark Blue – #00008B
White – #FFFFFF
Blue – #0000FF
Light Blue – #ADD8E6
Lime – #00FF00
Olive – #808000
Cyan – #00FFFF
Black – #000000
Maroon: 800000
Red – #FF0000
Silver – #C0C0C0
Aqua: 00FFFF
Green – #008000
Orange – #FFA500
Magenta – #FF00FF
Aquamarine – #7FFD4
Yellow – #FFFF00
How to change signature in Free Fire Max?
Step 1: If you want to change the signature in Free Fire Max, then you have to touch the left side profile button in the lobby.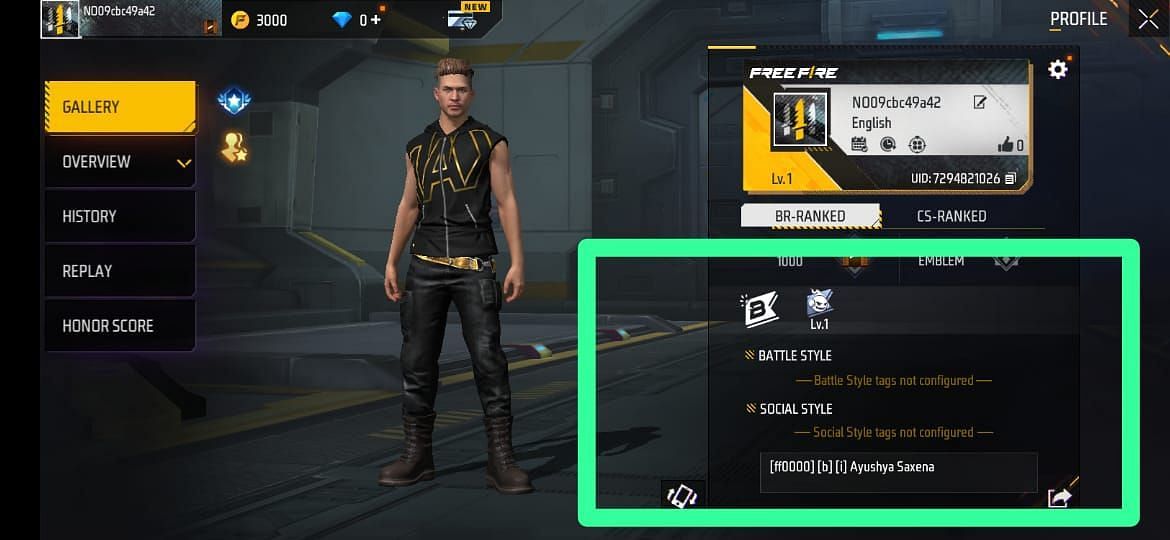 Step 2: Touch on the signature box. After that the new code has to be copied and pasted. It will not cost any diamonds to change this signature. Gamers can set colorful text for free.