Tata Nexon Punch Safari Harrier Kaziranga Edition: Tata Motors is increasing its dominance in the market as India's No. 1 SUV company and to celebrate this achievement, the company has launched special Kaziranga edition of its 4 luxurious SUVs Tata Nexon, Punch, Safari and Harrier. The Kaziranga edition of Tata's best selling SUV is inspired by the richness of the variety of flora and fauna found in India and has also given respect to the national parks.
Special edition of these special SUVs
The iconic and one-of-a-kind edition of Tata's SUV includes India's first and safest sub-compact SUV – The Punch, India's first GNCAP 5 star rated car Nexon, the company's premium SUV Harrier with the DNA of Land Rover and the company The famous and most special 7 seater SUV Safari has been included. The bookings for the Kaziranga Edition of these luxurious Tata SUVs have already started and all these SUVs are available only in their respective top trims across all authorized Tata Motors dealerships.
see price
Talking about the price of Kaziranga Edition of Tata's SUV, the price of Tata Punch Kaziranga Edition is Rs 8,58,900 lakh (ex-showroom). At the same time, the price of Tata Nexon Petrol Kaziranga Edition is Rs 11,78,900 (ex-showroom). The price of Tata Nexon Diesel Kaziranga Edition is Rs 13,08,900 (ex-showroom). After that, Tata Harrier Kaziranga Edition costs Rs 20,40,900 and Tata Safari Kaziranga Edition (7S) costs Rs 20,99,900 (ex-showroom). Recently, Tata Motors has announced to put the Panch Kaziranga Edition in the auction for the IPL fans. The money from the auction will be used for the conservation of wildlife in Kaziranga National Park.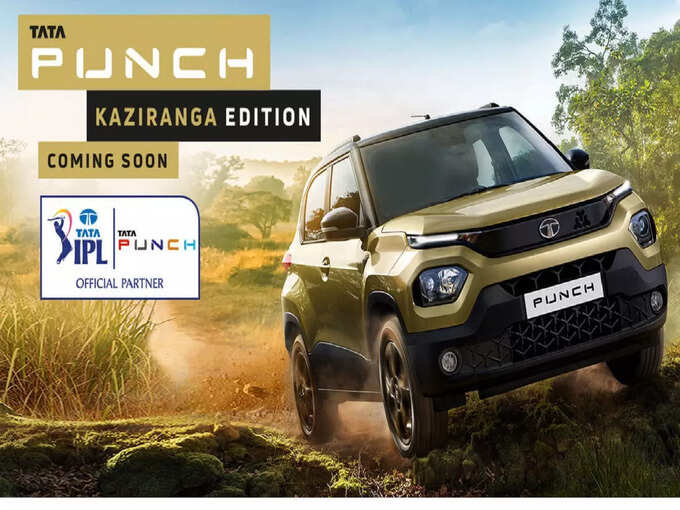 with new features
The Kaziranga Edition of Tata Punch will be available in exclusive range of top Persona, Creative MT, Creative MT-IRA, Creative AMT and Creative AMT-IRA. At the same time, the Tata Nexon Kaziranga Edition will be available in two trims, Nexon XZ+ (P) and Nexon XZA+ (P) in petrol and diesel powertrains. Tata Harrier Kaziranga Edition will be available in 2 trims namely Harrier XZ+ and Harrier XZA+. At the same time, Tata Safari Kaziranga Edition is available in 4 trims namely XZ+ 7S, XZA+ 7S, XZ+ 6S and XZA+ 6S. A lot of new features are being seen in these SUVs with Kaziranga Edition.