Users are actively discussing on Chinese social networks what they saw during the night broadcast of the iPhone 14 Pro Max interface, after which, we recall, users blocked in Chinese TikTok.
There was a lot of discussion about the fact that hugely popular apps in China, including WeChat, Tencent Video and others, have not yet been optimized for use with Dynamic Island.
In particular, WeChat notification pop-ups do not appear in the Dynamic Island interactive area, but simply under this notch, which does not respond to the application in any way. In addition, the menu bar at the top of the Tencent Video app is also covered by a Dynamic Island cutout.
In this regard, users express doubts about how convenient Dynamic Island will become in everyday use. One of them writes: "The area is obviously smaller, but it is uglier than the Big Bang." The second adds: "This black hole can really directly affect how I use my mobile phone. The more I look at it, the less comfortable the neckline seems to be. I do not understand".
Dynamic Island, as shown in the presentation, allows the iPhone 14 Pro to display notifications, reminders, events and other information in interactive blocks of various shapes. Everything looked great at the presentation, but the question remains how actively the function will be supported by third-party application developers.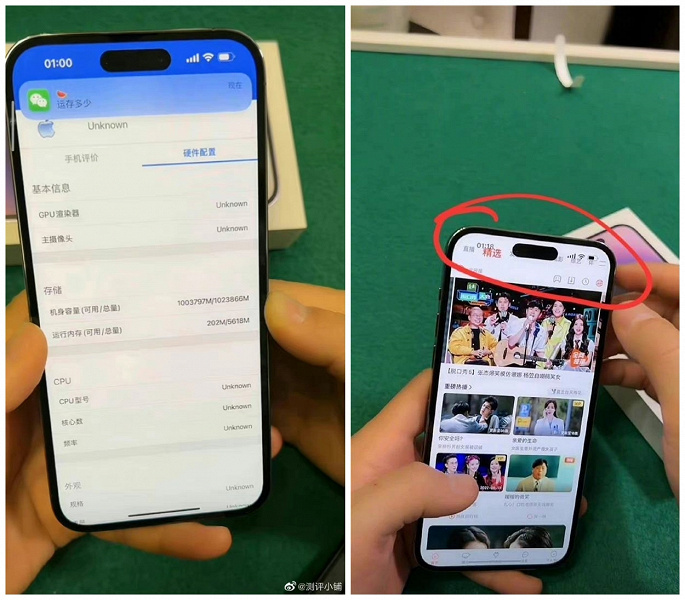 Previously it was knownat least one iPhone 14 store in China will be fined $30,000 by Apple for early activation. AnTutu was launched on a prematurely activated iPhone 14 Pro Maxafter which he was banned from Chinese TikTok.
Dealers unbox iPhone 14 Pro to reveal Dynamic Island, even without activation. Users also criticize the iPhone 14 Pro Max for being the heaviest smartphone in the history of this family.
Updated: A screenshot on iPhone 14 Pro Max is saved with the Dynamic Island cutout in the same shape when the screenshot is taken.