The network leaked information about the laptop Dell Precision 7 new generation, which will rely on processors and GPUs that have not yet been presented.
Let's start with the CPU. The new Dell mobile PC will be based on Alder Lake-HX processors, which will be allocated with an increased power limit of up to 55 W and 16 cores for top models. These processors have not yet been introduced by Intel.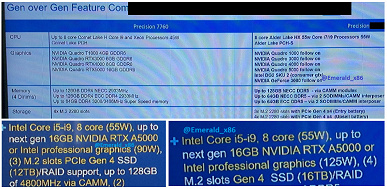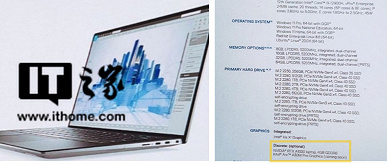 On the GPU side, Dell's new offering will offer plenty of options, including discrete Intel Arc adapters and some sort of Intel Professional Graphics, and it's also a clear choice for the Arc line as it's rated at 90W. In addition, on another poster, you can see the mention of the Arc A30M Pro GPU, but this is apparently a less productive model with a lower TDP.
But that's not all. The discussed CPU and GPU are still interesting primarily because they have not yet been presented. But another Dell solution will be completely unique.
In the image above, you can see the RAM module. And he looks weird. Dell documentation refers to this module as CAMM, and its essence is that two separate DDR5 modules will be placed on one physical module. This solution will save space inside the case, while not soldering the memory and still making it replaceable. True, such modules will probably not appear in retail at all.