Bye Apple reports growth in revenue and profit According to Counterpoint analysts, the third quarter in the smartphone market turned out to be very bad. More specifically, the worst among the third quarters since 2014.
The smartphone market as a whole declined by 12% to 301 million devices, and almost all leaders showed a decline in sales. Except for the same Apple.
Apple increased sales from 48 to 48.8 million smartphones. The growth is small, but against the backdrop of a 12% drop in the market as a whole, this is an excellent indicator. The same Samsung showed a decline from 69.3 to 64 million, Xiaomi's sales fell from 44.4 to 40.5 million, and Oppo (including OnePlus) and Vivo showed a decline from 38.1 to 29.4 and from 33. 7 to 26 million respectively.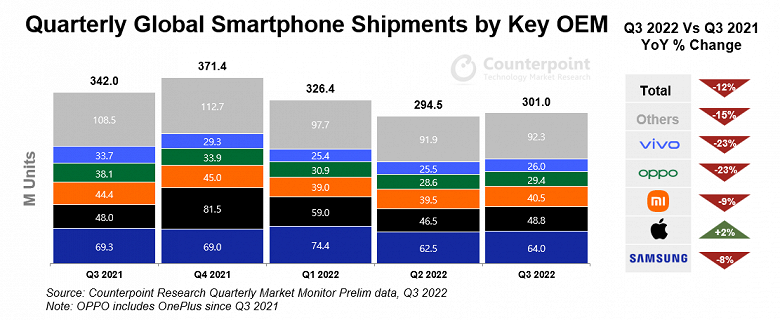 Analysts say that Samsung's performance could have been worse, but the company was saved by excellent pre-orders for new foldable flagships. However, as we can see, the results still showed a fall of 8%.