AMD claims that its new flagship high-performance processor Ryzen 9 7940HS 30% superior to the Apple M1 Pro SoC while delivering up to 30+ hours of laptop usage.
More specifically, comparing its new product with the brainchild of Apple, AMD says that the Ryzen 9 7940HS is faster in multi-threaded workloads by about 30%. In tasks related to AI, the advantage of the AMD CPU is up to 20%, but there is already a comparison with the Apple M2.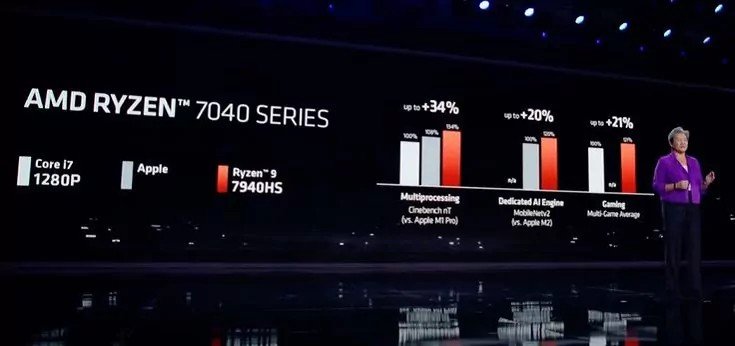 On the slide, you can see that the Core i7-1280P also participated in the comparison, but it is still a little slower than the M1 Pro.
In terms of battery life, AMD is talking about 30+ hours of battery life, but we don't know the characteristics of a laptop that can achieve such values, nor test scenarios. In general, the same mobile Ryzen 6000 stood out for its excellent energy efficiency, and the new ones should be even better, because they switched to the 4 nm process technology, which no other x86-bit CPUs on the market can offer.