In the village of Grebenkino, Krasninsky district, Lipetsk region, the Motorinvest car plant was solemnly opened, which will produce Evolute electric cars.
Initially, the production of the Evolute i-PRO electric sedan started, which is a turned "Chinese" Dongfeng Aeolus E70 with an upgraded power plant. Cars are already rolling off the assembly line, sales will begin in the coming days, about which says "Behind the wheel".
Its dimensions are 4680 x 1720 x 2700 mm, and the only electric motor with a capacity of 163 hp. allows it to accelerate to 100 km / h in 9.5 s. The power reserve from a 53-kilowatt battery is 405 km on the NEDC cycle or 250-280 km in real conditions.
The car is already waiting for Russian taxi fleets and car sharing. One of the customers is the energy holding RusHydro, which agreed with Motorinvest to supply 40 cars for the development of electric carsharing in the Primorsky Territory.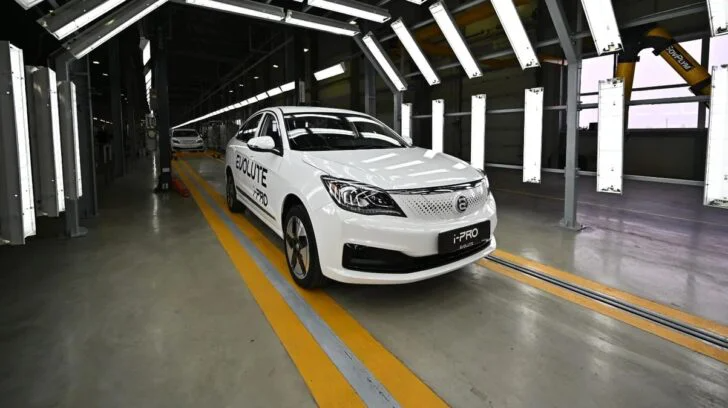 Crossover Evolute i-JOY should get on the conveyor in October. In Russia, it is certified with one 177 hp electric motor. and a 53 kWh traction battery with a power reserve of up to 405 km according to the NEDC cycle. From a powerful charging station, he can charge from 30% to 80% in just half an hour.
Then it is planned to launch the production of the i-VAN electric minivan, and at the beginning of 2023, the i-JET coupe crossover will go into series, which will be a "series hybrid" and will receive a gasoline-electric power plant with a total power of 693 hp.
The prices are already known: the i-PRO sedan will cost 2,990,000 rubles, and the i-JOY crossover will cost 3,490,000 rubles. The first buyers will be able to take a preferential car loan and get a 35% discount (no more than 925 thousand rubles) on the cost of the car. With this subsidy, Evolute i-PRO will cost about 2 million rubles.