Reviews of the Ryzen 9 7950X3D processor were published yesterday. We were able to appreciate capabilities and energy efficiency of the novelty, now we can evaluate overclocking. The authors of the SkatterBencher resource managed to overclock the new CPU, which is officially not suitable for overclocking.
The Ryzen 7000X3D, like the Ryzen 7 5800X3D, has a locked multiplier, so traditional overclocking methods don't work. But it is possible to increase the frequency by manipulating the parameters with Precision Boost Overdrive 2 or EXPO.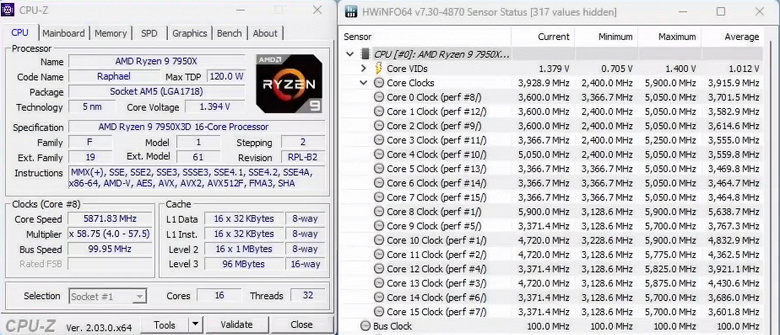 As a result, the authors of the source managed to increase the CPU frequency to 5.9 GHz. Such overclocking resulted in a considerable 9% increase in performance in synthetic tests, but in games the effect was much lower.
Given the difficulties with overclocking new AMD processors, the approach is likely to be interesting only from the point of view of the experiment itself.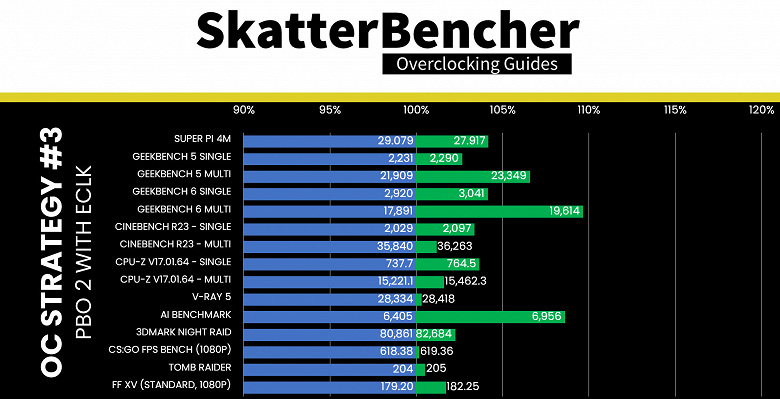 In particular, the Ryzen 9 7950X3D, as you know, has an additional cache memory chip located on only one chiplet. And AMD had to change the behavior of the CPU in a rather unusual way in order for it to work with such changes. The CCD0 chiplet (with 3D V-Cache) has a maximum frequency lower limit of 5250MHz and a lower voltage limit of 1.2V, while CCD1 (without 3D V-Cache) can reach 5750MHz and 1.4V. PBO2 and the voltage/frequency curve optimizer can make the CPU run at higher frequencies.