The new Ryzen 7000 processors will indeed be much faster than their predecessors. The first test of the Ryzen 7 7700X in Cinebench R20 has appeared on the Web, that is, in an application that really allows you to evaluate real performance.
The novelty is gaining 773 and 7701 points in single-threaded and multi-threaded modes, respectively.
As you can see from the charts, the single-core performance is much better than the Ryzen 5000 and close to the new Intel Raptor Lake. In multi-core mode, the Ryzen 7 7700X is a third faster than the Ryzen 7 5800X with the same number of cores, and the new Ryzen 7 5700X is already 40% faster.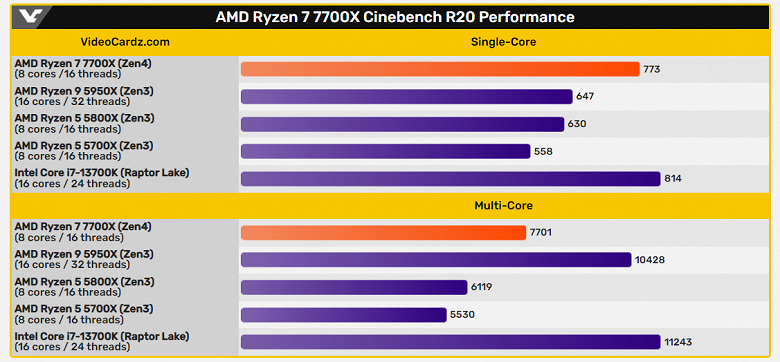 You can also remember that the 12-core Ryzen 9 5900X scores about 8600 points in the same test, and the Ryzen 9 3900X scores about 7100 points. That is, the eight cores of Zen 4 are faster than the 12 cores of Zen 2 and are not significantly behind the 12 cores of Zen 3.
Recall that in the Ryzen 7000 line there will be Processors with optional V-Cachewhich will be even faster.