New Tesla Model 3 prototype with camouflage spotted in California after unveiling rumors that the company will introduce a new car in the second half of next year. The project is reportedly codenamed Highland.
Tesla has been integrating its large casting technology into the Model Y for several years now, with individual large castings replacing dozens of parts in the new model. This new technology has allowed Tesla to significantly improve manufacturing efficiency with the Model Y over the Model 3. CEO Elon Musk has said that Tesla will eventually bring the same technology to the Model 3.
A prototype of the new Model 3 has been spotted in Santa Cruz, California by Twitter user omg_Tesla/Rivian. Dense fabric front and back hides the changes to the new model. However, some Twitter commenters believe that a camera could be built into the corner of the right front headlight.
Tesla's current suite of self-driving sensors has a blind spot around the bumper, so adding a camera in this part could improve the user experience and the autopilot system.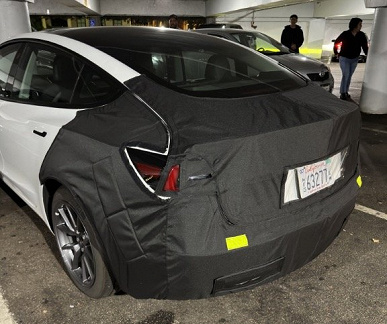 Tesla has always said that it will continue to improve its equipment for autopilot and full autonomous driving. Now, existing owners may be worried that Tesla may say it will need an extra camera for better autopilot performance, which will be in the new model.