More useful test results for the affordable Alder Lake generation Intel Pentium G7400 processor have appeared on the Web.
Recall that the CPU contains two large cores with support for Hyper-Threading and operates at a frequency of 4 GHz. Its suggested price is only $64, but it's not yet clear what will happen to the actual prices. And motherboards for Alder Lake are far from the most affordable yet. Be that as it may, below you can see the results of the novelty in Cinebench and a comparison with conditional competitors.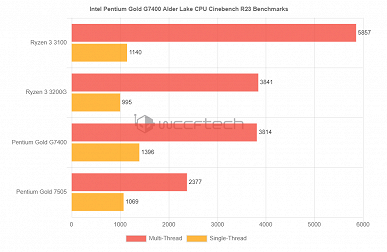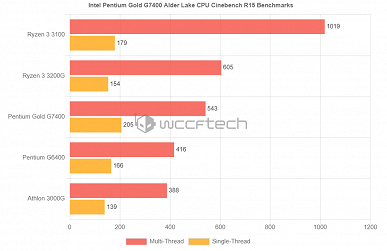 Let's start with the fact that the Pentium G7400 is about 30% faster than the Pentium G6400, that is, its direct predecessor. Technically, the old Athlon G3000 is outperformed by about a third. At the same time, the same far from the latest Ryzen 3 3200G based on Zen + is 10% faster. Yes, it has four cores, but there is no multithreading support, and the architecture debuted four years ago. Well, the more modern Ryzen 3 3100 with four cores and SMT is simply twice as fast or so. These are the maximum values ​​taken from Cinebench R15. In R23, the situation is slightly different in favor of the new Intel, but globally nothing changes.
We can say that the base processor from Intel also turned out to be successful. Yes, the Ryzen 3 3100 is much faster despite being three years old, but it's more expensive. Its recommended price is $100, and the real ones are much higher, although this situation is not the fault of AMD or Intel.
So far, it is generally unclear what the new Pentium will compete with. Probably with updated Ryzen 4000that we talked about just yesterday. But we don't yet know if there will be a processor priced significantly below $100 in this line. At the same time, as we see in the Ryzen 3 3100 example, even the three-year-old Zen 2 architecture is quite capable of competing with Alder Lake solutions. In addition, as noted above, the question of real prices for the Pentium G7400 and motherboards for it remains open.
.