GeForce RTX 4090 video card turned out incredibly productive and even capable of handling modern games in 8K resolution. It's also the first gaming graphics card to achieve 100 TFLOPS performance. True, only after overclocking.
By default, the performance of the adapter is declared equal to 83 TFLOPS. But WCCF Tech resource specialists overclocked their copy to a frequency of 3.15 GHz for the core, which made it possible to get 100975 GFLOPS in the AIDA64 benchmark.
In fact, no benchmark is required here, since performance in TFLOPS is calculated using a simple formula: the clock frequency in MHz is multiplied by the number of cores in the chip and multiplied by the number of instructions processed per clock, and then all this is multiplied by 106. That is, neither the architecture, nor the features of the computing units, nor the technical process, nor everything else is important here. That is, in general, it was clear in advance that the RTX 4090, with the characteristics of the GPU attributed to it, would be able to reach 100 TFLOPS in overclocking, and now we just have to fix this.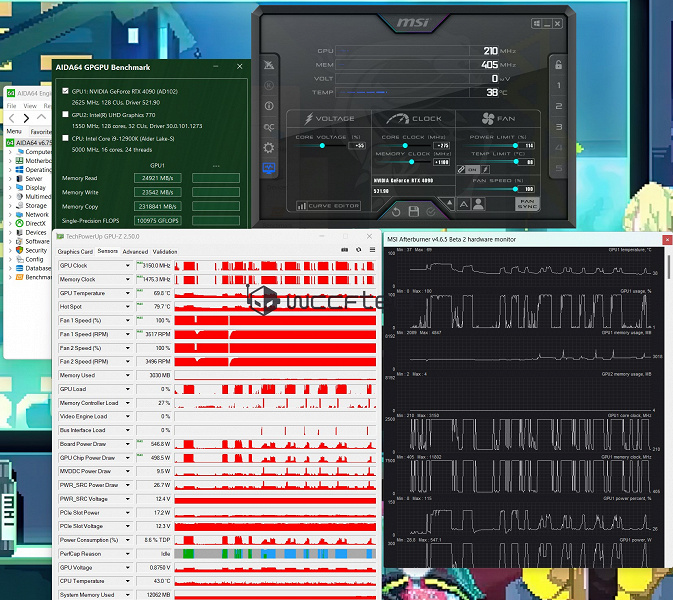 By comparison, the RTX 3090 Ti is 40 TFLOPS out of the box, and no amount of overclocking gets the card close to 100 TFLOPS.
It can also be noted that 14 years ago, the Radeon HD 4850 entered the market with a performance of 1 TFLOPS, which then became a new record. 14 years have passed, and the figure has grown by two orders of magnitude.