The processors Core i9-13900K and Core i5-13600K lit up in the next benchmark, and once again we can see very impressive results.
The single-thread performance of the Raptor Lake CPU will be slightly higher than Alder Lake and noticeably higher than the Ryzen 5000. But single-thread performance is less and less significant every year for most tasks.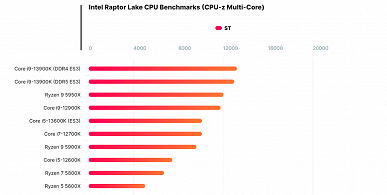 In terms of multi-threading, the Core i9-13900K is about 10% faster than the Core i9-12900K and Ryzen 9 5950X. This is generally not so impressive in both cases. It is worth remembering that the Ryzen 9 5950X came out almost two years ago, and the new Intel will already compete with the Ryzen 9 7950X. And the current result of the Core i9-13900K may hint that the new AMD will be far ahead. True, most likely, it will be significantly more expensive.
But the Core i5-13600K pleases much more. Compared to its predecessor, its result is already almost 40% higher, and the Ryzen 5 5600X is more than twice behind!
But here it is worth noting that we are still talking about only one benchmark. For example, in our tests The Ryzen 5 5600X performs roughly at the level of the Core i5-12600K, so it's too early to draw conclusions. In any case, at least a good potential of the new CPU line can be seen even now.