Intel will unveil new Alder Lake processors tonight, but the source has already published slides of the official presentation with all the specs and prices. One of the most anticipated CPUs of the new line is the six-core Core i5-12400F, which, according to the first tests, proved to be no worse than the hit Ryzen 5 5600X… At the same time, the cost of an Intel CPU is only $ 167. This processor would be a very good option for inexpensive gaming PCs. However, Core i3-12100 and Core i3-12300 also perform well in comparison to budget Ryzen APUs and they are even cheaper.
Intel's top Alder Lake CPU debuting today is the 16-core Core i9-12900 priced at $ 489. Its version with disabled GPU at the same TDP value of 65 W costs $ 464. At the other end of the table is a dual-core Celeron G6900 with a 46W TDP and a price of $ 42.
Intel is also ready for nine T-series processors with a TDP of 35W. They all have integrated GPUs and are on par with their older brothers.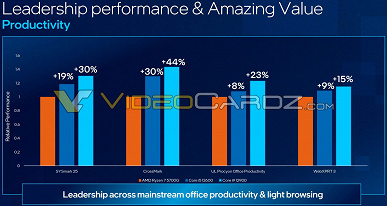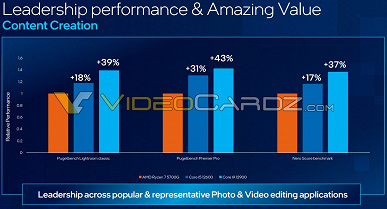 Finally, the source published graphs comparing the performance of the new Intel CPUs (Core i9-12900 and Core i5-12600) with the Ryzen 7 5700G APU. Here, as you can see, the superiority is on the side of blue processors.