After the release of the iPhone 14 line, only the lazy did not scold the basic models of the series – the iPhone 14 and iPhone 14 Plus. Most of the dissatisfaction is due to the lack of innovation in these models: against their background, the iPhone 14 Pro and iPhone 14 Pro Max really look much more progressive. Against the background of sluggish demand, there was talk of a decrease in production of the iPhone 14 and iPhone 14 Plus. However, in less than two months, the base iPhone 14 became a bestseller on the largest Chinese marketplace, JD.com.
So, for example, today, October 30, iPhone 14 is an absolute hit on the platform. It outsells both the iPhone 14 Pro Max and the iPhone 14 Pro.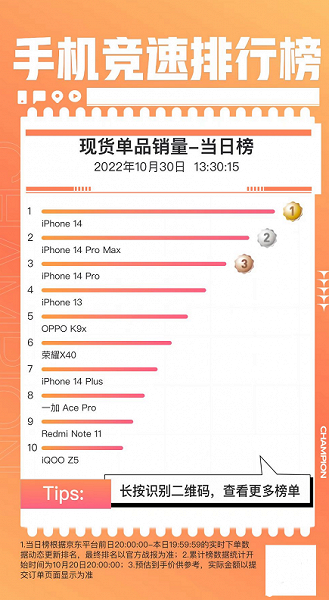 This result is not an accident of one day. In the sample over the past 10 days (from October 20 to October 30), the iPhone 14 is also an absolute hit on JD.com. It diverges better than not only the iPhone 14 Pro Max, iPhone 13 and iPhone 14 Pro, but also the local hit Redmi Note 11.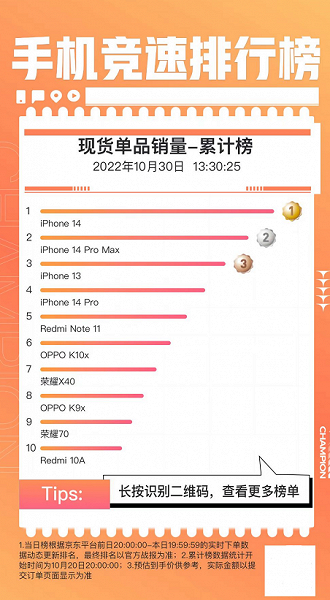 What is the reason that users changed their anger to mercy? The resource MyDrivers believes that it's all about the price: on JD.com, the iPhone 14 with 128 GB of flash memory is sold for 5,400 yuan ($ 745) – 600 yuan ($ 83) cheaper than in the company store.