The AMD Ryzen 7000X3D processor line consists of three models – Ryzen 9 7950X3D, Ryzen 9 7900X3D and Ryzen 7 7800X3D, but only older models are on sale so far. The Ryzen 7 7800X3D won't hit stores until April 6th, but European retailers have already begun listing the CPU in their catalogs.
This is important as the official price of the Ryzen 7 7800X3D ($450) has only been announced for the US market at the moment. Using the example of two older models, we can assume that the price of the Ryzen 7 7800X3D in Europe will be higher than in the US by about 13% and, of course, denominated in euros. And one of the stores actually indicated approximately the same price – 530 euros. However, other retailers turned out to be more greedy: they priced the processor at 607 and even 800 euros!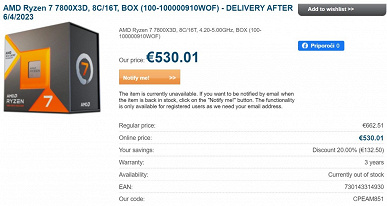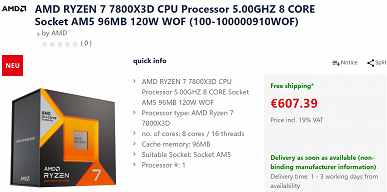 There was no doubt that the Ryzen 7 7800X3D in Europe would be more expensive than in the US, but apparently, sellers are not averse to making some extra money on the hype by raising retail prices at the start of sales. And there will certainly be demand for the Ryzen 7 7800X3D, because it will somehow be the most affordable model in the series, and it also acts as a direct successor to the hit Ryzen 7 5800X3D.
However, if the price turns out to be too high, then there may not be a rush. For comparison, now in Europe it is really possible to buy an 8-core Ryzen 7 7700X for 330 euros, and for 580 euros a 24-core Core i9-13900 is sold.