New information about the upcoming AOKZOE A1 Pro handheld game console has emerged. This model is equipped with an 8-inch screen with a resolution of 1920 x 1200 pixels, an AMD Ryzen 7 7840U processor and other typical features for such devices. It is noteworthy here that the console will receive 32 or 64 GB of RAM, as well as from 512 GB to 2 TB of permanent memory.
The A1 Pro will be available for pre-order through an Indiegogo crowdfunding campaign starting at 11:00 AM ET on April 30th. Pre-orders start at $799 for the 32GB RAM and 512GB SSD version. The maximum cost will be $ 1159 for the version with 64 GB of RAM and 2 TB SSD.
The processor will be the same in all models – Ryzen 7 7840U is equipped with 8 Zen 4 cores and supports 16 instruction streams. A graphics processor with 12 RDNA 3 computing devices is responsible for graphics processing. Its TDP is from 15 to 30 watts.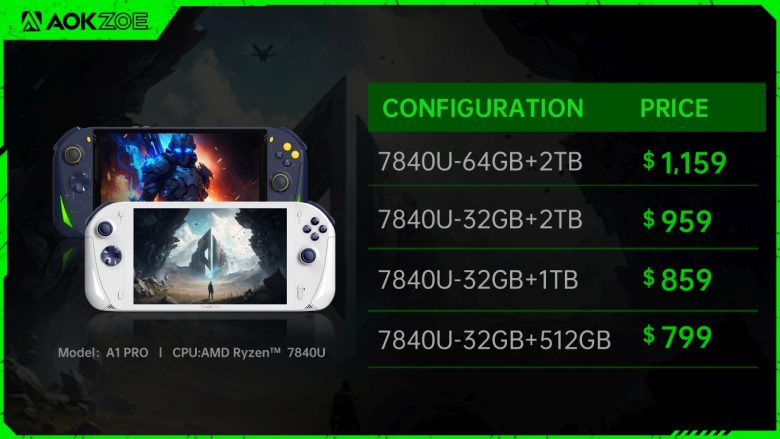 SoC operates at a frequency of 3.3 to 5.1 GHz, graphics performance is up to 8.6 TOPS. By the way, this chip is similar to the AMD Ryzen Z1 Extreme, which will appear in the Asus ROG Ally console.
According to AOKZOE itself, the new console received USB4, USB 3.0 Type-A ports, a microSD card reader and a number of accessories. In addition, the RGB backlight on the front panel, a powerful cooling system and other features are promised. Data on autonomy is not yet available.