Aeroflot announced its intention to create Russia's largest provider of aircraft maintenance and repair (MRO) services on the basis of its subsidiary A-Technics.
"Aeroflot is creating, on the basis of its specialized subsidiary A-Technics, Russia's largest provider of aircraft maintenance and repair services. For this purpose, A-Technics will be transferred the production facilities and personnel resources of the Aeroflot Maintenance Department."the official statement says.
All procedures for the re-registration of personnel and the transfer of production capacities in the company are planned to be completed by the end of 2022. Aeroflot expects that the unification of all aircraft maintenance processes on the basis of a subsidiary provider will increase the company's production and economic efficiency.
A-Technics was founded on December 7, 2015. The company has a FAP-285 certificate for maintenance of aircraft of foreign and domestic production, as well as a FAP-21 developer certificate. A-Technics performs operational and periodic maintenance of Boeing 737, Boeing 747, Boeing 777, Airbus A350, Airbus A330, Airbus A320 and SSJ 100 aircraft. Also, A-Technics is the only organization in Russia with unique competencies in terms of performing severe forms of maintenance of Boeing 747 and Boeing 777 aircraft, as well as periodic maintenance of the Airbus A350.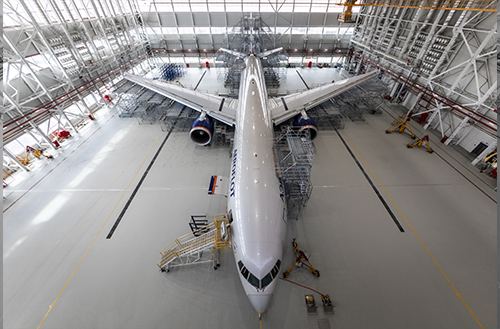 The updated A-Technics will not only become the Aeroflot Group's MRO center of excellence, but also the largest maintenance and repair organization in Russia, the CIS and Eastern Europe, both in terms of production capacity and the number of aircraft types serviced (total 9 types). A-Technics will have six hangar complexes at its disposal, which will make it possible to simultaneously accommodate up to 19 different types of aircraft.
According to Mikhail Korobovich, General Director of A-Technics, the business model of holdings is widespread in the world, when a large airline transfers its own technical division to a separate structure. At the same time, as Korobovich explained, such a company can serve the air fleet not only of the parent company, but also provide services for third-party air carriers, bringing additional income to the holding.
"At the same time, subsidiary outsourcing of maintenance and repair allows the airline to significantly reduce the cost of these services. In turn, the technical provider, due to the extensive service capabilities, including external customers, provides a constant load of engineering and technical personnel and maintains its own quality system at the level of all the requirements of the existing certification, and also has great opportunities to expand certification options for the services provided.Korobovich noted.