Skoda presented the finished car Skoda Afriq, created at the company's Academy in Mladá Boleslav. For the first time about the sports crossover, which was created by a group of students, we wrote in November. Now it has become a reality.
With the Afriq name, the concept car pays homage to the legendary Dakar Rally, and technically it is similar to many other rally cars. The students were actively assisted by the Skoda Motorsport factory team participating in the rally on Skoda Fabia hatchbacks.
Externally and in size, the Skoda Afriq is similar to the Kamiq crossover. Distinctive features were welded rear doors, enlarged wheel arches and an increase in overall length from 4241 to 4362 mm. The rear wing, ventilation system and almost the entire interior, including the steering wheel, instrument panel, seats, seat belts and intercoms, were transferred from the Skoda Fabia Rally2 Evo racing hatchback.
Skoda Afriq received transmission from Skoda Octavia 4×4. We are talking about a 2.0-liter 190-horsepower turbo engine, a seven-speed DSG "robot" and an all-wheel drive system with a clutch on the rear axle. To install the latter, the Czechs had to shorten the driveshaft and literally make the entire exhaust system from scratch.
The gas tank for the Afriq was also taken from the Skoda Octavia 4×4, and for independent suspension, the students completely redid the bottom of the donor Kamiq. The mass of the car was only 1350 kg, and in the back of it fit a portable water generator capable of producing drinking water from moisture in the air.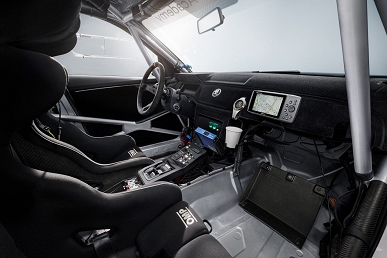 The car was created in a single copy.