The Chinese Automobiles website published a high-quality photo of the new Chery crossover with model number T1EJ, which this automotive publication calls "similar to the Range Rover Evoque." In addition, information was confirmed about which engine the new product will receive.
Previously on the web showed the interior of Chery T1EJ, but it was a test. Now we have a car with a completely different interior. A huge screen with a portrait orientation catches the eye, but its diagonal is still unknown. This solution is gaining more and more popularity among Chinese manufacturers.
Also visible is the digital instrument panel, behind which is the projection unit on the windshield. The central tunnel and steering wheel have not received any changes. The car offers a gear selector, two cup holders and a place for wireless charging for a smartphone.
Also published information about the technical characteristics of the test Chery T1EJ, which is a front-wheel drive car (there will be an all-wheel drive version). It is powered by a 1.6-liter SQRF4J16C engine with 197 hp. The same is installed in Exeed TXL and Chery Tiggo 8 Pro. The novelty will receive a 7-speed "robot".
The car will receive a large grille, retractable door handles, an LED logo and two-tier optics. Dimensions Chery T1EJ will be 4453 x 1864 x 1671 mm with a wheelbase of 2650 mm. The presentation of Chery T1EJ is expected in 2023, possibly under the Omoda brand.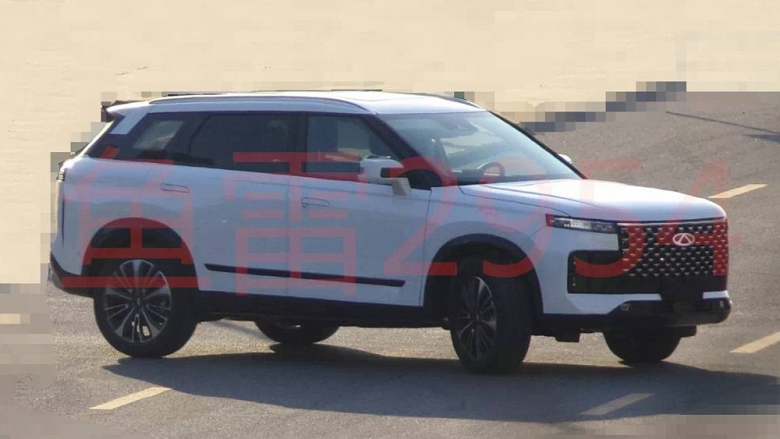 Recall Previously, photos of Chery Tiggo 9 appeared, which resembles the Range Rover Velar. This is not surprising since the company owns 50% of the Jaguar Land Rover joint venture in China and has been using Range Rover design cues in its models since the Chery Tiggo 7 Pro.