The GeForce RTX 4090 video card, of course, turned out to be incredibly productive, but what happens if you collect seven of these video cards in one system?
This is exactly the question asked by Pugetsystems experts. To implement the idea, they took an Asus Pro WX WRX80E-SAGE WIFI motherboard, a 64-core Threadripper PRO 5995 WX processor, 128 GB of RAM and the same seven RTX 4090.
Of course, new Nvidia cards cannot be combined into an SLI bundle, so it will not work to test such a system in games or gaming benchmarks, but there are applications that can use all the cards in such a PC. By the way, to power the system, we had to use four Super Flower LEADEX Platinum power supplies with a power of 1600 W each.
And this is really a necessity, because seven top Nvidia cards even without load consume about 350 watts, that is, as one RTX in games. Under load in the form of OctaneBench, the cards alone require 2.75kW.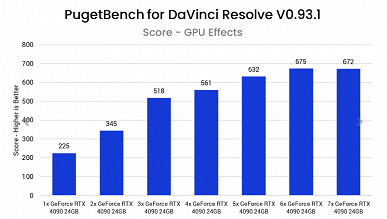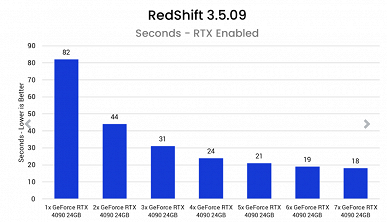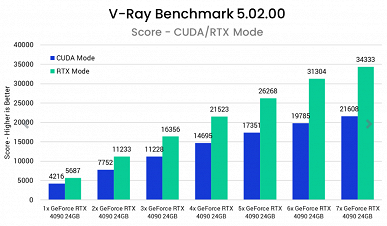 As for performance, not always all seven cards can be used, but some applications are still capable of this. For example, in V-Ray and OctaneBench, the performance gain with each new map is almost linear. As a result, in the same OctaneBench, seven cards are 6.9 times faster than one adapter.