A few days before the announcement of the iPhone 14 Pro, Samsung published promotional video of their flagship smartphonesin which the manufacturer not only lists their advantages, but also trolls Apple about the lack of innovation in the iPhone.
Samsung has been quick to say that the iPhone 14 will not have a folding screen, 108-megapixel camera, starry sky mode, ultra-fast charging, and other features found in the Galaxy S22 Ultra and Galaxy Z Flip4.
Samsung's prediction came true, so after the presentation of the iPhone 14 Pro, the company decided to continue to mock the competitor. A new poster posted by Samsung's North American account says that the iPhone 14 Pro has only been upgraded to a 48MP main camera, while Samsung has had a 108MP camera for two and a half years (since the Galaxy S20 was released). ultra).
Unfortunately, Samsung continues to play the megapixel race, although many manufacturers have already confirmed that the quality of photos and videos is not determined only by the resolution of the image sensor.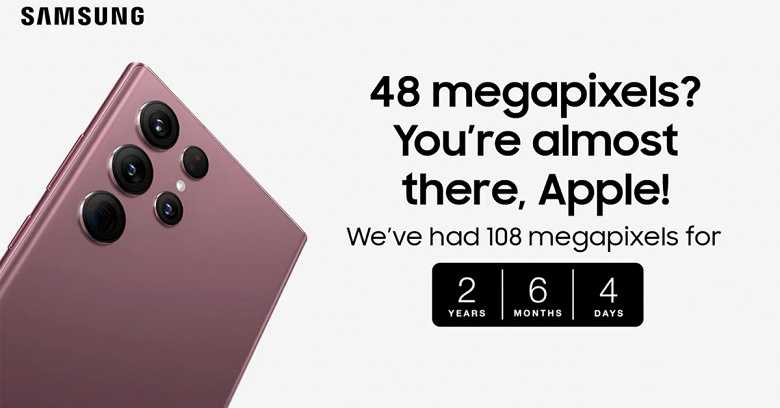 If we take video specifically, then the same iPhone 13 Pro with a 12-megapixel camera, according to reviewers, is invincible, and the iPhone 14 Pro should further increase the gap.