New Delhi: Honda Activa Used Scooters Sales: In India, people often call scooter as Scooty in common language. In such a situation, if you say in colloquial language, then if you want to buy second hand scooty then this news of ours is just for you. Today we are going to tell you about a way where you will be able to buy the best selling used scooters at a very low price. Today we will tell you how to buy Honda Activa (Honda Activa) on Facebook Marketplace. Honda Activa) And TVS Jupiter ,TVS JupiterYou can buy used models of popular scooters like ) in your budget. So let's have a look…
Honda Activa on sale for Rs 13,000
The suggestion we got after setting a price limit of Rs 20,000 on Facebook Marketplace, Honda Activa 2009 model is selling for Rs 12,999. On the other hand, the 2013 model of Honda Activa is selling for Rs 22,500 with the maximum price limit set at Rs 30,000. Whereas, the 2015 model of Activa 3G is selling at Rs.36,900 and the 2015 model of Activa for Rs.39,500.
TVS Jupiter sold at Rs 23,999
The used model of TVS Jupiter is available on Facebook Marketplace for Rs 23,999. TVS Jupiter has 4 different 2017 models on sale for between Rs 35,000 to Rs 45,000.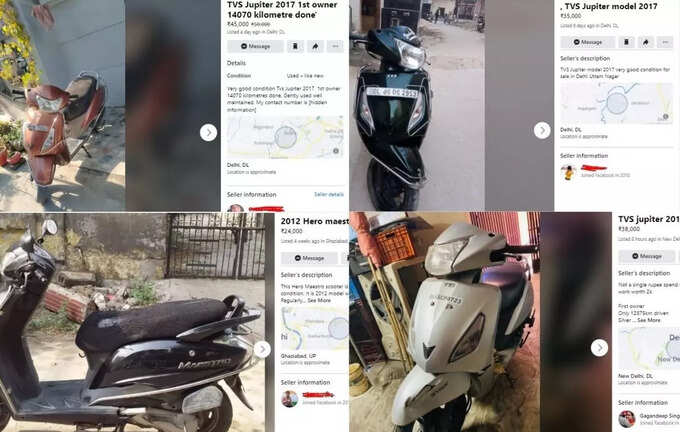 What is Facebook Marketplace?
Facebook Marketplace is Facebook's online platform. It is just like OLX, where you can sell your things and also buy used products. Like OLX, you can directly sell your stuff here and buy stuff from any other person. Facebook does not have any control in all this buying and selling. In such a situation, like OLX, many cases of fraud have also come to the fore. In such a situation, before buying anything, make sure to find out about it thoroughly.
beware of thugs
The Facebook Marketplace is a good place to shop for used two-wheelers. But, here you need to be very careful from thugs. In such a situation, if you are buying a used vehicle, then definitely check that there is no criminal incident or accident with that vehicle. Apart from this, also find out whether there is any case against the vehicle or the vehicle owner.
pay attention
The vehicles we mentioned here are just an example. We have not spoken to the persons selling the vehicle here. In such a situation, do not buy a vehicle on the basis of our example. Before choosing a car, find out its owner, paperwork, condition of the vehicle thoroughly.