Ryzen 9 7950X processor which SiSoftware specialists rated it 10 out of 10has already set four new overclocking records, despite the fact that sales have not yet begun (except China).
Four results of the new CPU appeared in the HWBOT database: in Cinebench R23, R20, R15 and 7-Zip. In all cases, AMD's new release slightly improved previous records, which were mainly held by the Ryzen 9 5950X. However, there is a very important nuance here.
The fact is that all the records that the Ryzen 9 7950X broke were set during extreme overclocking of the previous generation processors. In three cases, liquid nitrogen was used, and in one case, dry nitrogen was used. At the same time, the new AMD CPU was cooled only with liquid CO. That is, for the Ryzen 9 7950X, a slight overclocking using dropsy is enough to be better than the Ryzen 9 5950X and Core i9-12900KS overclocked in extreme conditions.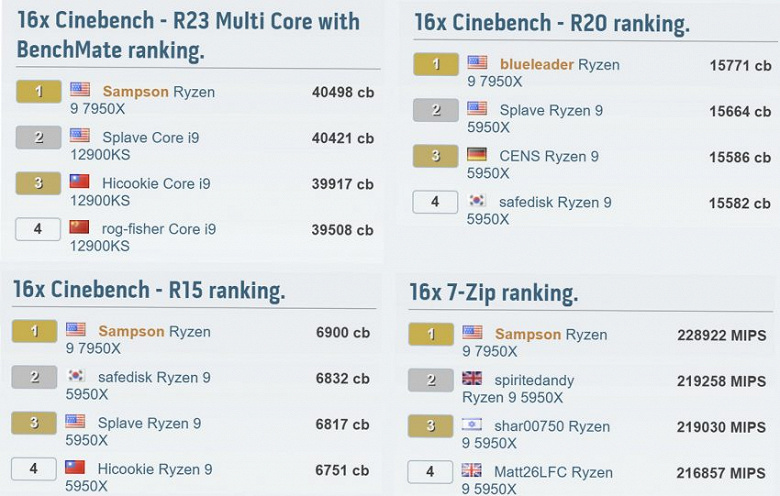 When setting records with the Ryzen 9 7950X, different motherboards were used, but the Corsair H115i cooling system was always involved. The processor worked at frequencies of 5.4-5.5 GHz at a temperature of 87 to 108 degrees. At the same time, he consumed 226-244 watts.