According to Avtostat Info, revenue from sales of crossovers and SUVs in Russia decreased slightly from September to October 2022, from 79 to 78.5 billion rubles. In total, from the beginning of the year to October, inclusive, buyers purchased new crossovers and SUVs in the amount of 813 billion rubles.
Haval Jolion maintained its leadership in sales revenue in the SUV segment in October. In the reporting month, 3056 cars were sold for the amount of 6.2 billion rubles. The second place is taken by Chery Tiggo 7 Pro with the result of 2214 cars in the amount of 5.6 billion rubles.
The Lada Niva SUV came in third in terms of profitability: in October, such cars were sold in Russia in the amount of 4 billion rubles. Geely Coolray was the fourth with a score of 3.3 billion rubles. Closes the top 5 models in terms of sales revenue Hyundai Tucson, sales of which amounted to 875 cars in the amount of 2.5 billion rubles.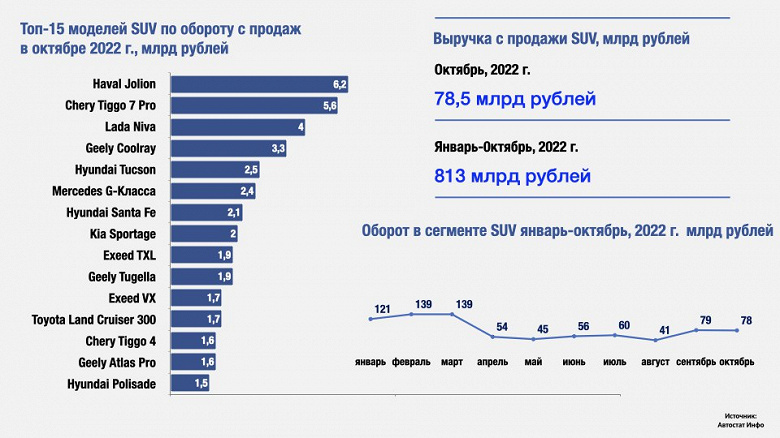 In October this year, buyers purchased cars worth 106 billion rubles, and in the first ten months they spent 1.176 trillion rubles on cars.