Harvard University researchers, including Korean-American scientists, developed
"The goal is to create an artificial heart for child patients"
A hybrid fish powered by human heart muscle cells was born.
A joint research team at Harvard University and Emery University, led by American Korean scientists, has developed an autonomous biohybrid fish that moves underwater using the contraction and relaxation motions of deep muscle cells made by differentiating human stem cells, the international scientific journal Science. announced on
The research team expects that this technology can be used as a platform to advance the development of artificial hearts and study heart diseases such as arrhythmias in the future.
"Our ultimate goal is to create an artificial heart that can replace the deformed heart in children," said Harvard University professor Kit Parker, who led the study.
Focus on biophysical properties instead of heart shape
In the meantime, artificial heart fabrication has focused on mimicking the anatomy of the heart or how it beats. The Harvard researchers, on the other hand, drew their ideas from the biophysical properties of the heart in this study. Instead of taking the shape of the heart as a blueprint, the design was based on the main biophysical principles that make the heart work. And by applying this system to a moving fish, the success of the artificial heart can be easily checked with the naked eye.
The fish was named a biohybrid because it combines a living tissue called a cell and an inorganic material. The hybrid fish made this time was completed by combining cardiac muscle cells, plastic, and gelatin.
The hybrid fish was based on previous research by Parker's team. Professor Parker's team created an artificial jellyfish with mouse heart muscle cells in 2012, and then developed an artificial stingray that swims with mouse heart muscle cells in 2016.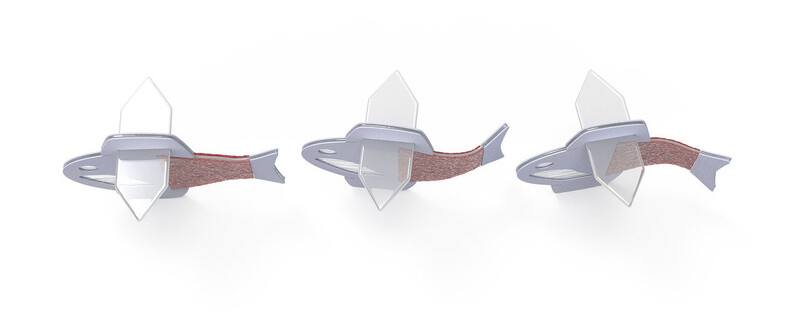 More than 100 days of operation… About the lifespan of a small animal
This time, the research team made a biohybrid device that can mimic the shape and swimming behavior of a zebrafish using cardiac muscle cells made by differentiating human stem cells.
Cardiac muscle cells were attached to both sides of the caudal fin of the hybrid zebrafish, so that when one contracted, the other stretched.
The finished biohybrid fish worked for 108 days. Professor Matthias Gautel of King's College London, UK, told 'New Scientist', a scientific journal, "Cells isolated from the heart of real animals can survive for 2 to 4 weeks at best. It's amazing that there are," he said.
Co-first author Gil-yong Lee, postdoctoral researcher, said, "We put a mechanical-electrical signal device between the two muscle layers so that when one contracted, the other automatically stretched." The researchers also created self-regulating devices, such as pacemakers, that control the number and rate of contractions.
The two muscle cells and the autonomous control unit work together to enable continuous dorsal movement. Another co-first author, Park Seong-jin, a professor at Emery University, said, "Thanks to the two internal regulatory mechanisms, we are able to operate faster, more efficiently and for longer than before."
Show the same level of swimming skills as a real fish
In addition, the biohybrid fish showed a characteristic that the function improved over time. As myocardial cells grew, the degree of myocardial contraction, swimming speed, and muscle control all improved during the first month. Thanks to this, the biohybrid fish has reached the level of swimming at a speed similar to that of a real wild zebrafish.
In the future, the researchers plan to use human heart cells to create even more complex biohybrid devices.
Professor Parker, however, put the brakes on hasty expectations. "Just because you can make a heart out of clay doesn't mean you can make a heart," he said in his press release. For example, you can grow certain cells in a dish to make heart organoids. However, at present, no matter what method is used, it is not possible to reproduce a physical system that simultaneously regenerates cells while beating more than 1 billion times in a lifetime. "That's where our challenges and research take place," said Professor Parker.