Retail sales of the Honor 50 smartphone began in Russia today, and in China, Honor 60 will be presented in three days. The day of the official premiere was revealed by the head of marketing of Honor in a short message on the local social network Weibo. For the announcement of important new products, the company has chosen a beautiful date – 22.11.
There are several pictures of the starry sky attached to the post of the chief marketer of Honor – the images are similar to the one what was shown on the first official teaser of the Honor 60… Alas, these pictures have nothing to do with the camera (although, according to rumors, it will get better) – it is said about "the pinnacle of the external performance of the smartphone in 2021". That is, a lot of attention will be paid to design.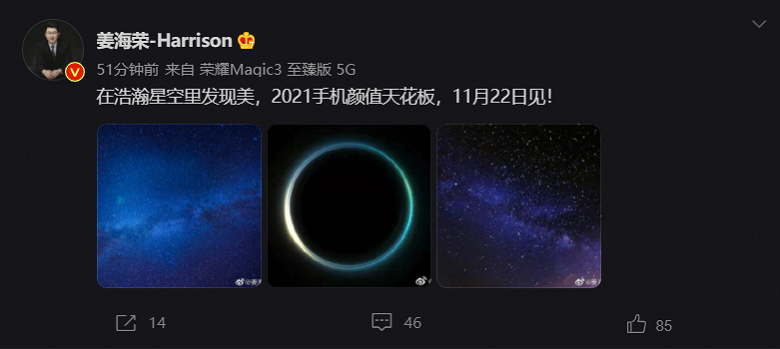 If the rumors are confirmed, then along with the improved camera, the Honor 60 will move to the more powerful Qualcomm Snapdragon 870 platform, get 4500 mAh batteries and support for 65W charging.
.