President of Xiaomi and Redmi Lu Weibing officially confirmed that the smartphone Redmi Note 12 Turbo Harry Potter Edition went on sale in China today at the same time as the standard edition.
Buyers are offered the only version of Redmi Note 12 Turbo Harry Potter Edition, which is equipped with 12 GB of RAM and 256 GB of flash memory, for $ 350.
Redmi Note 12 Turbo Harry Potter Edition received a unique back design, an exclusive system theme with matching icons and sound effects, and a gift box with various bonuses.
Inside, in addition to the smartphone itself, buyers are waiting for an original case that hides only half of the back of the smartphone, a clip for the SIM card tray, reminiscent of platform 9 and 3/4, a letter from Hogwarts and a map of marauders. Of course, the package includes a charger and a cable.
As for the standard version of Redmi Note 12, the smartphone became the best-selling mobile device in the price range from $290 to $440 in China, and the version with 16 GB of RAM and 1 TB of flash memory set a historical record in the industry: exceeded the total sales in 5 minutes of all smartphones with the same amount of memory over the same period of time. The new batch will go on sale April 6th.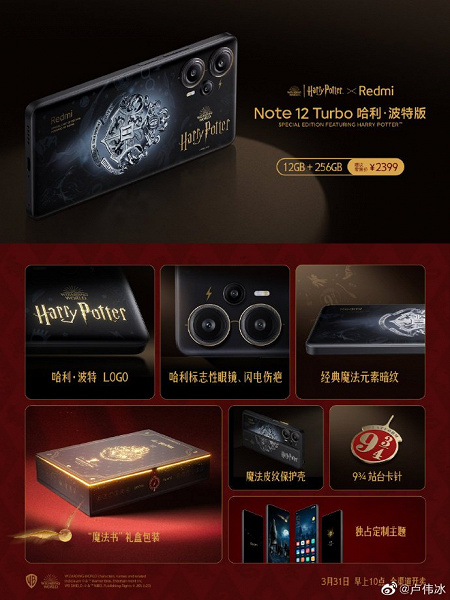 Previously, Lu Weibing announced the achievements of the Redmi Note series of mobile phones. Cumulative sales volume for the last 10 years exceeded 320 million units.