video card GeForce RTX 3060 Ti with GDDR6X memory became a reality, but AMD says its product is better.
The company has released test results for the RTX 3060 Ti. The company does not have new versions yet, so it took the usual, but overclocked. It was opposed by the Radeon RX 6700 and RX 6700 XT.
As you can see, the first one performs exactly at the level of the Nvidia adapter, and the second one is noticeably faster. At the same time, the second one is just equal to the RTX 3060 Ti in terms of power consumption.

As a result, AMD says that the RX 6700 is 33% faster than the rival in terms of performance per watt.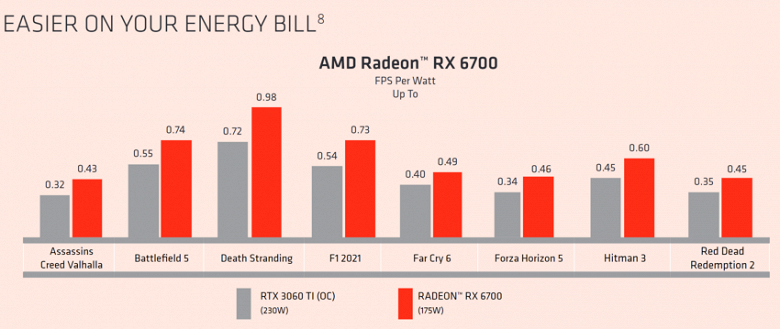 At the same time, if we talk about the European market, the junior AMD card costs 415 euros, the RX 6700 XT starts at 440 euros, and for the RTX 3060 Ti they ask from 470 euros. That is, even if the RTX 3060 Ti with GDDR6X memory comes out at the same price, which is unlikely, it will be more expensive than the RX 6700 XT, which is noticeably faster.