The Geekbench Synthetic Benchmark Database has released the first performance test results for AMD's entry-level Radeon RX 6400 graphics accelerator . Recall that this accelerator was introduced simultaneously with the more productive model Radeon RX 6500 XT. However, unlike the latter, its implementation will be carried out only through system integrators, that is, as part of ready-made PCs.
In this case, the Radeon RX 6400 graphics card was tested in a system with an AMD Ryzen 5 5600X, an ASRock X570 Taichi motherboard, and 32 GB of dual-channel DDR4 RAM. Windows 11 was used as the operating system.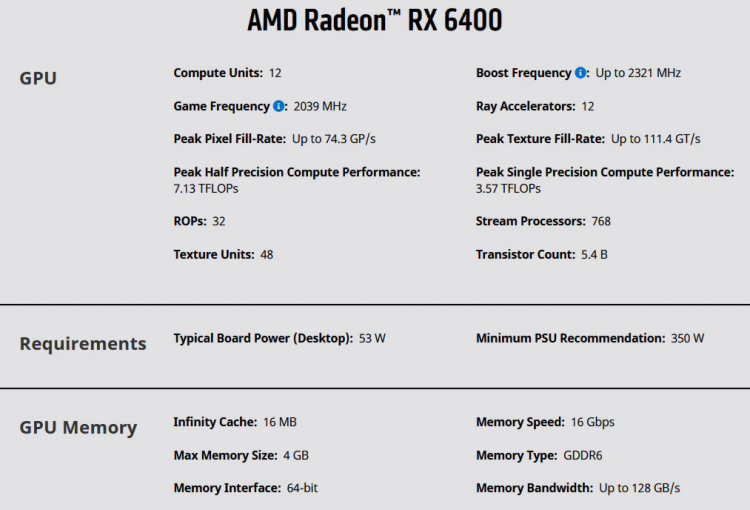 Based on the results of four tests, the Radeon RX 6400 turned out to be expectedly slower than the Radeon RX 6500 XT model. As part of the younger accelerator, 25% fewer graphics cores are used, operating at a frequency of almost 500 MHz lower than the Radeon RX 6500 XT (2815 MHz). In addition, the Radeon RX 6400 has a claimed power consumption of just 53W. In the older model, it is equal to 107 watts.
Based on the results of the test with the Vulkan API, the Radeon RX 6400 was only 7% slower than the older card. Given the significantly reduced GPU, the result is quite good. At the same time, scoring 34,749 points in one of the tests, the card turned out to be noticeably slower than the GeForce GTX 1060 6GB (37,185 points), but almost caught up with the GeForce GTX 1650 (34,764 points). On another run, the result was significantly higher – 37,673 points – but it is not known why.