Hyundai has unveiled the updated Palisade crossover, which is very different from the model released in 2019 in front design. The changed radiator grille with a new pattern catches the eye. The head optics have also noticeably changed. The car received other disks.
Inside the restyled Hyundai Palisade, you can see a new steering wheel, a fresh digital instrument panel, other finishing materials, and an enlarged screen of the multimedia and entertainment system. In addition, the shape of the ventilation deflectors has changed.
The car received a salon mirror with a screen to which the image from the rear view camera is transmitted, ventilation of the second row seats and heated seats of the third row. Hyundai Palisade will be offered with seven or eight seats.
This Hyundai Palisade for the US market will be equipped with a 3.8-liter V6 gasoline engine with 295 hp. in combination with an 8-speed automatic transmission.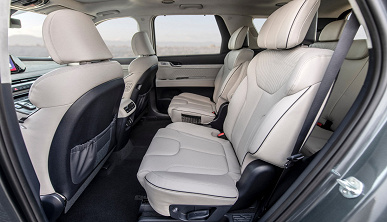 It is also stated that the car will appear in the South Korean market, where it will be available with a diesel engine. So far, nothing has been said about plans to produce a car in Russia.